Taylor's in town to meet with Rex Ryan and company. Dolphins fans are apoplectic. Jets fans are inconsolable. This is pretty much a win-win situation for everyone.
Save a brief sojourn in Snyderland, Taylor's been with Miami his entire career. He's a fan favorite who's still got something in the tank, and Fins fans were convinced he'd be able to retire a Dolphin. But the team has been hesitant to bring him back, citing concerns about his shoulder and the possibility that they could replace him via the draft.
But the Jets? The team he once said "takes the 'c-l' out of 'class?'"
Well, it might be just a stunt to pressure the Dolphins to re-sign him, but he's visiting Florham Park, N.J. today — right as we speak. But don't blame Jason; blame his agent! (Says his agent.)
I pushed him up there,'' Wichard said. "I twisted his arm. He loves the fans in Miami and he gave up $8 million last year to play in front of fans. I am the one to push him to go up there because I don't know what will be available to him on April 23 or 25 or whatever.''
G/O Media may get a commission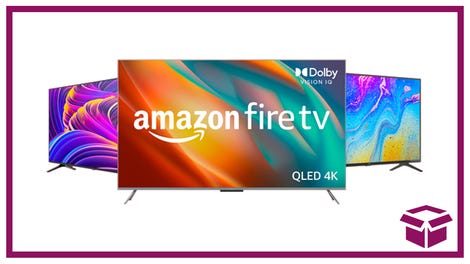 Ooh. stunning.
New Amazon Fire TVs
It's a scary thought, adding him to an already-potent defense that added Antonio Cromartie. But to get the fans' take on it, the Daily News went to their self-appointed spokesman. You guessed it: Fireman Ed.
He's such a meathead," Ed Anzalone told the Daily News, sounding a bit like Archie Bunker.

"It's hilarious," Fireman Ed said. "Let's be real. This guy hates the Jets. He hates Jets fans more than anything. Put it this way: For him to even try to come here, it has to be two things: Nobody is bothering with him or he wants to win a championship. He wants to hop on board."
A Taylor-to-the-Jets scenario also includes ruining the free agency plans of Chicago and New England, just an added bonus. It's rare that a single signing leaves so many parties so butthurt. Let's hope it happens.
Miami Dolphins' Jason Taylor meeting with the New York Jets [Miami Herald]
Fireman Ed blasts DE Jason Taylor after hearing New York Jets courting Dolphins free agent [NYDN]