First off, I have to admit that I actually like the current NHL playoff format, and its focus on intra-division competition in the opening two rounds. I think the general geographic closeness of the early-round games is a plus for the competitors, but more importantly, the repeated match-ups year after year create both simmering contempt between teams and fascinating storylines for fans. Who outside of Columbus and Philly didn't want to see the Capitals and Penguins go at it again in the second round this year? That lopsided rivalry has become one of the most wonderful traditions of playoff season.
But if you're of the very rational opinion that the playoffs should initially match the strongest teams against the weakest teams and separate the best until the conference finals, the second-round match-up (starting tonight) between the Jets and the Predators is a nightmare. Here are the two best teams in the NHL (by regular-season record at least), meeting when the playoffs have just barely gotten underway, delivering a battle worthy of a Stanley Cup Final while there are still six other teams around to distract us.
These two teams are meeting now because both Winnipeg and Nashville come out of the absolutely stacked Central Division, where all but one team (Chicago) earned at least 90 points. The Predators and Jets were kings of that division, as Nashville took home the Presidents' Trophy with 117 points and Winnipeg finished second with 114. If you were designing a playoff system that paid no mind to anything but record, these teams would be the number-one seeds on either side of the bracket.
And this series is extra frustrating for those fans involved because these aren't just the two best NHL teams—these are also possibly the two best squads each franchise has ever had. Nashville is still riding a high from its first-ever Stanley Cup Final last year, when they lost to the Penguins, but this year, the team set a franchise record for wins, and if they make the finals, they won't just be happy to be there. The city of Winnipeg, meanwhile, just saw its first playoff series victory since 1987, when a different Jets franchise was in town, and anything the team does from here is breaking new ground its fans haven't seen since joining the NHL.
This series will probably come down to the goaltending. Winnipeg's Connor Hellebuyck—who set the record for most wins by an American-born goalie with 44 this year—and Nashville's Pekka Rinne—with his save percentage of .927 in 59 games—are two of the three Vezina finalists this year, and they'll have to stand up strong against some incredibly high-powered forward lines. For the Jets, 20-year-old Patrik Laine's beard and deadly shot draw plenty of attention, while Nashville's Filip Forsberg has already given the playoffs a couple of its most beautiful goals. Nashville was 3-1-1 in the season series, for what it's worth, and all but one game featured at least eight goals.
G/O Media may get a commission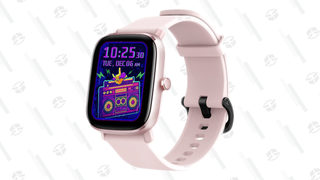 20% Off
Amazfit GTS 2 Mini Smart Watch
Get fit
Has built-in Alexa so you can ask questions and carry your smart assistant around with you; it has a battery that can last up to 14 days, has over 70 different sport modes, is 5ATM waterproof, and tracks stats like your heart rate, calories burned, sleep, and more.
It will absolutely suck that a great team—and one that could have cakewalked against a second-round opponent like the Sharks—will suffer an early playoff exit because of the quirks of the NHL's system. At the same time though, in whatever round it happens, Winnipeg-Nashville is an amazing series with two raucous home crowds and a huge potential for high-scoring thrillers. It's not fair that it's happening now. But it's still going to be great.