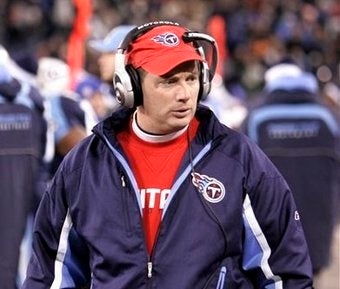 It seems fitting that the Tennessee Titans' defensive coordinator is the man who has been chosen to resurrect the pitiful Detroit Lions.
The tackling display put on by the Silver and Blue during the two teams' Thanksgiving Day meet-and-greet was the pathetic nadir of the most embarrassing season in history. It wouldn't have taken much insight to look across the field, see a vastly superior team and say, "Maybe we should hire that guy."
Of course, insight is not a trait that the Detroit Lions' management is known for. As long as William Clay Ford continues to confusedly hold the reigns of this franchise, hope will be in short supply. And even though new GM Martin Mayhew's first trade was the best one of the Matt Millen era—Roy Williams for a 1st and 3rd round pick—that doesn't change the fact that he was a key employee of that era. In other words, nothing ever really changes.
Is Jim Schwartz (if that is his real name) the right choice? Does it matter? You can't lose more than 16 games (I think) so next year will almost certainly be better than last. And only an unproven assistant without a legendary reputation at stake would march into a situation like this dreaming about the great turnaround he might lead. But dreams are still good, right? Right?
If Schwartz takes this team to the playoffs, he will never have to pay for his own Coney Dogs again. And if he doesn't ... well, they are still the Lions.
Lions turn to Schwartz as coach [ESPN]
Schwartz needs to worry about Lewand [Freep]
FireSchwartz.com [Already Taken By Titans Fans]