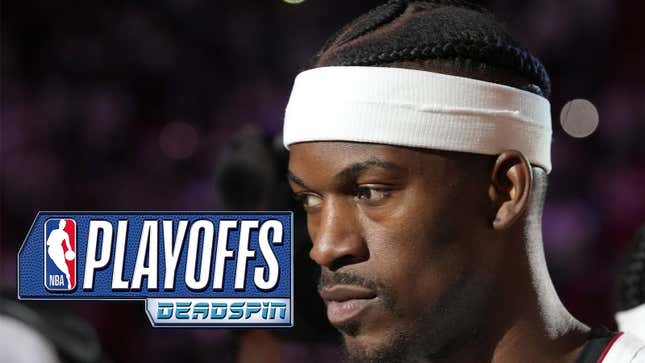 Jimmy Butler is the validation I needed that NBA playoff basketball is America's fifth major professional sports league among the "Big Four." From the pace to the way games are scheduled as a series to the effort, it's almost a parallel Association. Golden State has been historically bad on the road —until their critical Game 5 against Sac-Town. Two weeks ago, the Miami Heat offense was stuck in a perpetual panic attack. Against the Milwaukee Bucks' top-five defense, they couldn't miss, finishing second behind Phoenix in scoring and raining threes at a prolific rate.
Stop dunking! Giannis' injury could've been prevented | Andy Reacts
That disparity between the regular season and playoffs is best captured in the experience of Playoff Jimmy or JiMVP in clutch time vs. regular season Butler who exists only to hustle everyone out of their money ala Billy Hoyle hustling Raymond in White Men Can't Jump. In lieu of a succinct mononym like Giannis or LeBron, he's just Playoff Jimmy, a playoff basketball deus ex machina. He doesn't have the natural ability or a signature strength that sets him apart to keep this pace up for an entire regular season. REGULAR SEASON Jimmy hoops like a dude who shows up at a run in Timbs and jean shorts and somehow dominates the court for three hours.
During the regular season, Milwaukee was 51-3 when leading after three quarters. In Playoff Jimmy's final two fourth quarters against Milwaukee, Jimmy threw that mark out the window. Miami trailed by 12 midway through Game 4's final frame and in Game 5, Milwaukee's lead was 16 entering the final stanza. Since arriving in Miami, at the same time Kawhi Leonard signed with the Clippers, he's been what Steve Ballmer expected as a star who blends in during the long, arduous regular season and then transforms into an All-NBA catalyst for nearly a month, and a half.
Right now Playoff Jimmy is the NBA playoff's leading scorer. When the nearest Bucks defender was within four feet of Butler, he launched more shots than all but four players, yet he made almost 62 percent of those attempts. That's 17 percent better than Anthony Davis while he's operating significantly closer to the rim. When defenders were within two feet, Butler made 60 percent of his attempts.
Jimmy Butler takes approximately two triples a game. Playoff Jimmy indiscriminately attempts six shots from distance a night. The same trend applied to 2022's regular season and postseason versions of Jimmy too.
Playoff Jimmy putting his foot up more talented team's backsides again and again is 50 percent mental, 25 percent skills, 25 percent instincts, and 10 percent stamina. Don't double-check the math, it adds up.
Miami's health and conditioning program is the calling card of Heat Culture, alongside their willingness to thrash like their early 90s Riley-era forefathers. The NBA season is a marathon, and it's finally paying off in miles 18-23 of the home stretch. When their competitor's bleeding nipples start slowing them down, Playoff Jimmy and Friends are basking in the pain.
X's and O's and Playoff Jimmy
Coaching comes into play more heavily in the playoffs than it does in the regular season when teams play a new opponent every two days, while bouncing between cities. A seven-game series allows coaches to layer game plans, adjustments to those game plans, and counter-moves to those adjustments until both have played their entire card deck.
Erik Spoelstra is one of the NBA's craftiest after-timeout artists. Gabe Vincent's parabolic inbounds pass to Playoff Jimmy arrived a second later than he probably intended, resulting in Jimmy pausing, and catching it in an awkward position while using his body to fend off Jrue Holiday, but he still had the touch to toss it through the cylinder as time expired.
Mike Budenholzer is a regular season don whose playoff coaching shortcomings were mitigated in the past by Giannis Antetokounmpo being a unicorn version of Iso Joe. However, Budenholzer subbing out Brook Lopez on the final defensive possession of regulation, saving his timeouts on the final play of Milwaukee's season and wasting Antetokounmpo as an inbounds defender on the lob play to Jimmy were harebrained decisions.
In contrast to Playoff Jimmy going supernova, Antetokoumpo suffered Heat stroke down the stretch, building mansions at the free-throw line, and developed PTSD over his free throw misses that he literally almost hot-potatoed the ball out of bounds at the end of regulation to avoid going back.
Playoff Jimmy is the first-round MVP after another sleepy regular season. And now he gets to head to Madison Square Garden for a chain-link net showdown with Thibodeau's Knicks. If his sixth sense for feeling his way around high-pressure moments is as strong as I think, we should be in for a show next week too. As I explained in last week's Keep it a Buck(et), Draymond Green is probably the only other player who has a preternatural feel of where the cameras are than Playoff Jimmy and the shutterbugs will be hyperactive for a Knicks-Heat series.
Going supernova from Milwaukee's Deer District on NBA TV is off-Broadway compared to the Sunday matinee or primetime in Madison Square Garden. If Playoff Jimmy sings against the Knicks, he might earn an EGOT. Playoff performances on the Garden floor get magnified. Against his former coach with the Timberwolves and Bulls, Playoff Jimmy might be motivated to crash the Garden and deliver another pantheon game against a lesser team that the one they just dispatched.
He's already smuggled Miami into an NBA Finals appearance. Let's see if Jimmy Butler can keep that Playoff Jimmy energy on the NBA's biggest Broadway stage. But I'm not betting against him.
---
Follow DJ Dunson on Twitter: @cerebralsportex