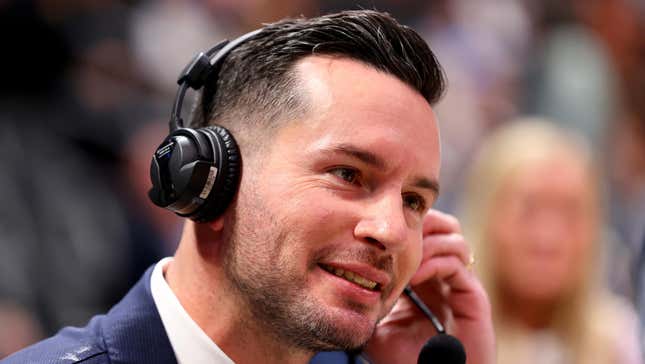 I want to believe that these two parties are smart enough to know that they are better off without each other. They have achieved great success separately, and a union at this time can only cause harm to both. A business relationship should exist between JJ Redick and the Toronto Raptors. That business, however, should only involve access to players, and coaching staff when Redick is calling a game there.
Is Steve Nash the greatest Phoenix Sun of all time? | Agree to Disagree
Redick leading that staff is an idea that needs to go no further than news from ESPN's Adrian Wojnarowski on Wednesday. Wojnarowski is reporting that Redick has gone through a first round of interviews with the Raptors, and is "one of more than a dozen candidates" with whom they have had conversations.
Their most recent conversation with him needs to be the last until he shows up at Scotiabank Arena next season with the NBA on ESPN production team. This trend of hiring professional athletes as head coaches shortly after they finish playing needs to stop. The Raptors are one of the most respected organizations in the NBA. There is no need to take the chance that Redick is some diamond in the rough.
For those who truly want to pursue coaching after playing, and start where DeMeco Ryans did as a quality control coach, they are making a legitimate career pivot. They are learning the basics so that they can have the necessary foundation for success.
Jason Kidd and Steve Nash were given talented players immediately, and entrusted to maximize them. With the Milwaukee Bucks, Kidd ran a more predictable offense than the recently dismissed Mike Budenholzer. Currently with the Dallas Mavericks, his team rode dysfunction and injuries to the Western Conference Finals last season. This season, they acquired Kyrie Irving and failed to even make the play-in tournament.
Speaking of Irving — the player who one of the least ridiculous things he has said is he didn't see the Brooklyn Nets as having a coach while he played there. With the Nets they had one good playoff run while he was hurt. The rest of the time was a disaster, and it did appear from the outside that Nash was head coach in title only.
Maybe a little experience in dealing with players in a capacity other than as a peer is beneficial to do the job — don't use Steve Kerr as an example; he first worked in the Phoenix Suns front office before coaching.
He's doing fine already
If Redick was willing to take all of the steps to learn the job, maybe he would be great at it. For him to do that, though, would be an unnecessary step backward. He has already found a second career at the conclusion of his NBA tenure, and it's been working out well for him.
He retired from the league in 2021. In the ensuing two years, he has become one of the most recognizable basketball media personalities in the business. Redick started podcasting while he was still playing. The Old Man and the Three is now a part of his own company, ThreeForTwo Productions. Clips from that show regularly go viral, and that money is completely separate from ESPN.
On the Worldwide Leader, he goes viral every so often on debate shows for participating in polarizing MVP conversations and growing frustrated at sports talk show hosts using the same arguments they were yelling into microphones in 1993. He also does some color commentary.
Leaving all of that to scout opponents and prospects, hire and monitor staff, gameplan, satiate the egos of millionaires in their 20s, and have answers to the press for every team failure — whether they're his fault or not — talking to Tommy Alter and Mad Dog Russo for a few hours per week seems like a much better way to earn a living.
A little flirting between Redick and the Raptors is harmless. They go to dinner, tell some stories, laugh at bad jokes — it all sounds like a wonderful spring evening in Canada. Hopefully both parties have friends that can provide good counsel against committing to each other. Redick and the Raptors have a lot to offer, just not to each other.