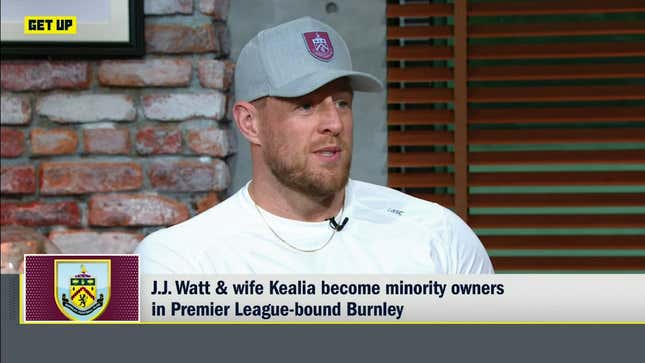 Everybody's favorite spinoff to We Bought a Zoo — Famous Person Buys an EPL Team — just got a new character as retired NFL star J.J. Watt and his wife, NWSL player Kealia Watt, announced they're the proud minority owners of Burnley FC. The Bears are set to return to the Premier League after finishing first in the EFL Championship, and it's really a heartwarming story that's not stale at all.
Between Jason Sudeikis' loveable Ted Lasso, and Ryan Reynolds, and that other guy owning Wrexham AFC (Editor's note: You mean Mac?), the English have to be thrilled to have another dumb (North) American singing songs in scarves at stadiums they couldn't pick out of a lineup.
Incidentally, it was a conversation with Reynolds that pushed Watt's decision over the top, and I don't know what's worse: Blindly following trends, or buying into a middling EPL club just so you can tell the public you're friends with Reynolds, or are at least famous enough to reach out to a guy who might be able to put you in touch with Ryan Reynolds. I've heard the Mint Mobile mogul is a notoriously hard person to get a hold of, so I'm impressed.

I mean, why not ask your agent for Mac's number, or a direct line to Coach Beard? I know both are available for interviews (though only one would talk to Deadspin). To be fair, and that's what journalism is about, Kealia plays in the NWSL, so she can call soccer "football" and get away with it.
And it's only a minority stake, so really the Watts are more token celebrity spokespeople — think Jay-Z and Beyonce when Hov was a Brooklyn Nets "owner" — for Burnley than actually cutting the checks and making the day-to-day decisions.
J.J. Watt retired from...retirement?
It doesn't surprise me that J.J. couldn't stay off of the set of Get Up for more than six months after retiring in December. His legendarily cloying appearance on Hard Knocks speaks to the kind of pseudo-celebrity he aspires to be. In his official announcement on Twitter, Watt said he's "Retiring from retirement."
Oh my god, dude, not everybody is a comedian, including me. I sit a couple hundred feet from the Onion's writers' room and can't get them to return my pitches. I've made peace with that, and now it's J.J.'s turn to come to terms with the fact that his value dropped as soon as he drove off the lot.
OK, maybe I overdid it there. Probably didn't need to say I no longer care about anything J.J. Watt does "under any circumstances." The world needs content, and I don't want to lose my job to the computers, so, please, more American-related EPL folly.