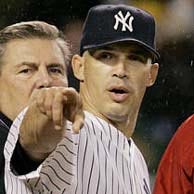 The night of Joe Torre's final game as Yankees manager, we ran into one of those aggressively hardcore Yankees fans who are perfectly friendly until they've had a bit to drink. We asked him what he thought about the job vacancy; he said, "I hope it's not Mattingly. I can't boo Donny Baseball." It was charming; he understood that part of the job description was being booed. And now he doesn't have to worry: It's gonna be Joe Girardi.
We hope Girardi has an idea as to who will play third base.
A source tells 1050 ESPN New York's Andrew Marchand that the Yankees have officially offered the job to Joe Girardi. He is expected to accept it and the official announcement may come as early as today.

This morning, Yankees GM Brian Cashman told Don Mattingly and Tony Pena that they will not be offered the job. Girardi was in the Denver for the World Series, he is expected to fly to New York for the announcement, which could come as soon as tomorrow.
Mr. Girardi, do enjoy this brief moment of slight, quick good feeling. Your honeymoon will last about two-to-three days, and that's probably pushing it. All you have to do now is replace a legend, help rebuild a team that seems helplessly behind their historic rivals and, oh yeah, not get fired because you can't get along with the owners. (Again.) Have fun with that.
Yankees Offer Job To Girardi [ESPN 1050]