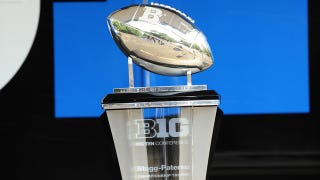 Retired life is not going any better for toppled morally complicit geezer Joe Paterno. Now his name has been removed from an essentially hypothetical trophy.
Via ESPN:
The new trophy, to be awarded Dec. 3 at the inaugural Big Ten football championship game at Indianapolis, had been named for both Paterno and former University of Chicago coach Amos Alonzo Stagg. It will now be known only as the Stagg Championship Trophy.

"We believe that it would be inappropriate to keep Joe Paterno's name on the trophy at this time," Big Ten commissioner Jim Delany said in a statment. "The trophy and its namesake are intended to be celebratory and aspirational, not controversial. We believe that it's important to keep the focus on the players and the teams that will be competing in the inaugural championship game."
Yes, the trophy will now be named solely for Amos Alonzo Stagg, the legendary coach of Big Ten powerhouse UChicago, where there's no sex at all.
Trophy photo via Hawkeye Beat.