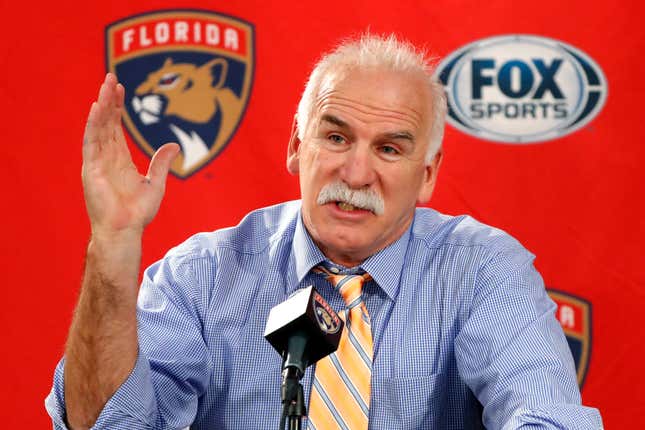 It wasn't hard to imagine the NHL getting back to this point. There are a couple teams in big markets — i.e. New York and Toronto — that have fallen under the dreaded canopy of "need to learn how to win in the playoffs." There's a feeling out there that these teams' stars lack some sort of killer instinct, or quite frankly the balls, to win in May. So the natural conclusion is that they need the guiding hand of someone who's done it before. The Gandalf, who's seen it all and knows the path to victory.
What can make the NHL more exciting?
Which is why Joel Quenneville's name is once again making the rounds, and why he'll be meeting with Gary Bettman to try and convince the commissioner that he should be allowed to coach again. Or maybe it's just to have the appearance that Bettman did his due diligence when this decision has already been made. This is the NHL, so which are you betting on?
The only question that Bettman should be asking himself is, "How does this benefit the league?" And if he's thinking about it in any serious way, which he almost certainly isn't, he'll find that the league doesn't benefit in any way from welcoming Quenneville back.
This isn't the NFL or NBA, where coaches can be box office. Joel Quenneville, while livelier than a lot of NHL coaches, is not like Rex Ryan or Bill Belichick or Gregg Popovich, or Steve Kerr, where he's providing stuff before and after games that draw eyeballs. He's decent with the media if quite closed off on anything that matters. Which, of course, was the problem in the first place. People do not tune in to watch Joel Quenneville coach.
What he does represent is hockey's dressing-room-over-all ethos that has led to so many problems, and led to the Hawks management choosing a rapist and a child molester over his victims during the 2010 Stanley Cup run. While fans around the league have blamed everyone including the players, there were two true villains in the Kyle Beach case, and the rest varying levels of henchmen, other than obviously Brad Aldrich who committed the crimes. And they were Quenneville and team President John McDonough. It's in the report, for everyone to see, that Quenneville's first reaction was to protect the Hawks' on-ice, and his own personal, success. All he could focus on was "how hard it was to get here" i.e. the Stanley Cup Final, as this was his first trip there as a coach.
Quenneville being reinstated would only confirm that the NHL was waiting for the bad publicity to blow over, they'll deal with the initial blowback from Quenneville's eventual hiring, and that none of the rest of it matters. That it's business as usual. It only brings bad pub, and makes it clear that the league isn't serious about any real change to the core of its culture, which is that the "room" can't be disrupted by anything.
And what would have been Quenneville's punishment? Missing almost two seasons? Coaches go without coaching for two seasons all the time. It's only slightly longer than the normal cycle coaches are on in the NHL, where teams are so eager to hire a guy who's been fired multiple times. How is that any kind of punishment?
Actions (should) have consequences
However, keeping Quenneville permanently outside the league would at least show that there are consequences for these egregious actions that Quenneville and the Hawks took. All they had to do was immediately fire Aldrich. It was so simple. It's not like the Hawks themselves could have brought police charges against Aldrich. They could have easily protected Beach's privacy while doing so because no one in this town would have ever noticed that Aldrich wasn't around during the Final. Believe me, hockey coverage then was merely about the party. This was not the 23 beat reporters following around the Yankees on a daily basis or anything anywhere close. Maybe the players would have noticed, but that's hardly a given. And they certainly wouldn't be talking about it to the press.
Instead, they avoided even that minuscule move to avoid upsetting the bandwagon in any way, and even aided in Aldrich getting another job where a child was assaulted. All it took was Quenneville saying, "Get this guy out of here." And he couldn't do it. Quenneville should be the head on a pike outside the gates that the NHL uses to show what will happen to anyone doing something similar. It's not much, but it's something. Quenneville would have to console himself with his millions of dollars and three rings. Somehow he'll manage.
Perhaps Bettman can't distract himself from the story that Quenneville landing in Toronto or New York and making those teams even more of an attraction. The Rangers and Leafs already draw some of the biggest numbers TV- and attendance-wise, but this might make them even more of a draw for neutral eyeballs. They certainly would be heavily scrutinized.
But how much more does that really move the needle for hockey? Is it really worth once again saying that what Hawks' management did doesn't matter? That can't possibly be the calculation. But it will almost certainly be. No one loves a 17th chance like the NHL.
---
Follow Sam on Twitter @Felsgate.