The Cincinnati Reds have been complete dogshit this season, but the most concerning decline has been their first baseman. Joey Votto's power is missing in 2016. His hitting is, too.
Votto hit his eighth and ninth home runs in the Reds' last two games, which raised his slugging percentage above .400 for the first time all season. That new dick-bat routine doesn't seem to be working, as his slash line is .213/.330/.404, which isn't what any team wants from a hitter in the top third of their lineup let alone one of the best hitters of his generation. The Reds aren't in a position to shuffle hitters anyway, with a team on-base percentage of .289, which ranks 28th in the league.
To better detail Votto's struggles, it helps to look at his 2015 season, where he ended up third in NL MVP voting. Votto, a lefty hitter, was disciplined at the plate, like he usually is. He tried not to chase pitches that were inside or well out of the strike zone, and was successful with balls that were down and outside:
With an admittedly smaller sample size this season, Votto is struggling everywhere. Forget about anything outside; the guy can't hit meatballs.
G/O Media may get a commission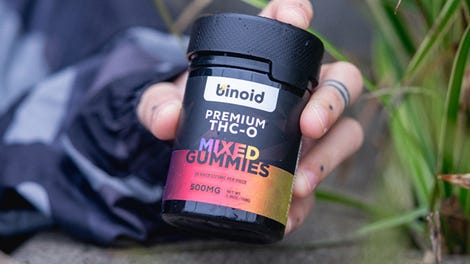 25% Off + Free Shipping
Binoid THC-O Gummies
The season's young, but this seems like an opportune time to drop a reminder that Votto's going to be here for a while. Before the 2012 season, Votto signed a 10-year, $225 million contract extension with Cincinnati for the largest deal in franchise history and what was then the longest guaranteed contract in MLB history. (The Marlins eclipsed it with a 13-year, $325 million agreement with Giancarlo Stanton in 2014.) The money sounds like a lot—and it is—but baseball contracts tend to overpay at the back end for underpaying for a player's prime. Indeed, Votto's 2012 and 2013 were stellar, and after a quad injury ate up his 2014 season, he was fantastic in 2015. But Votto's now 32, and if his hitting can be expected to improve by a lot it's still dreadful, and he'll be on this contract for roughly forever.
The Reds will have to pay Votto until 2024, when he will be 40 years old. At that point, the club can choose to buy him out for $7 million or pay him $20 million for his final year. Trading Votto is not an option unless he agrees to waive his full no-trade clause. Cincinnati had better hope this is just a blip, because if it's not, they have an almost unbelievable amount of depressing baseball to look forward to.