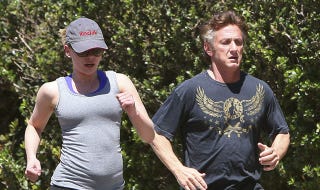 Sean Penn and Scarlett Johansson are dating. Did you know? Here they are, going for a jog together in Malibu. They were reportedly "joined by Owen Wilson on their run." A.J. saw this and said, "I don't like to live in a world where Sean Penn jogs." A.J. did not realize that Sean Penn jogs quite frequently. Sean Penn tends to look like he hates jogging while he jogs.
Here he is. Sean Penn jogs shirtless and angry.
Sean Penn jogs in an old man jogging suit, while angry.
Sean Penn has an understated stride to his angry jog.
Sean Penn angrily jogs through the pain!
Sean Penn jogs on a beach with Madonna! They both look angry! Jesus, is this a meme by now?
Sean Penn takes a well-deserved break from all of the angry jogging.
Owen Wilson joins Sean Penn, who is still angry, on his jog.
Thanks for your continued support of Deadspin, even when we do weird shit like this. Dickey is going to entertain you tonight.