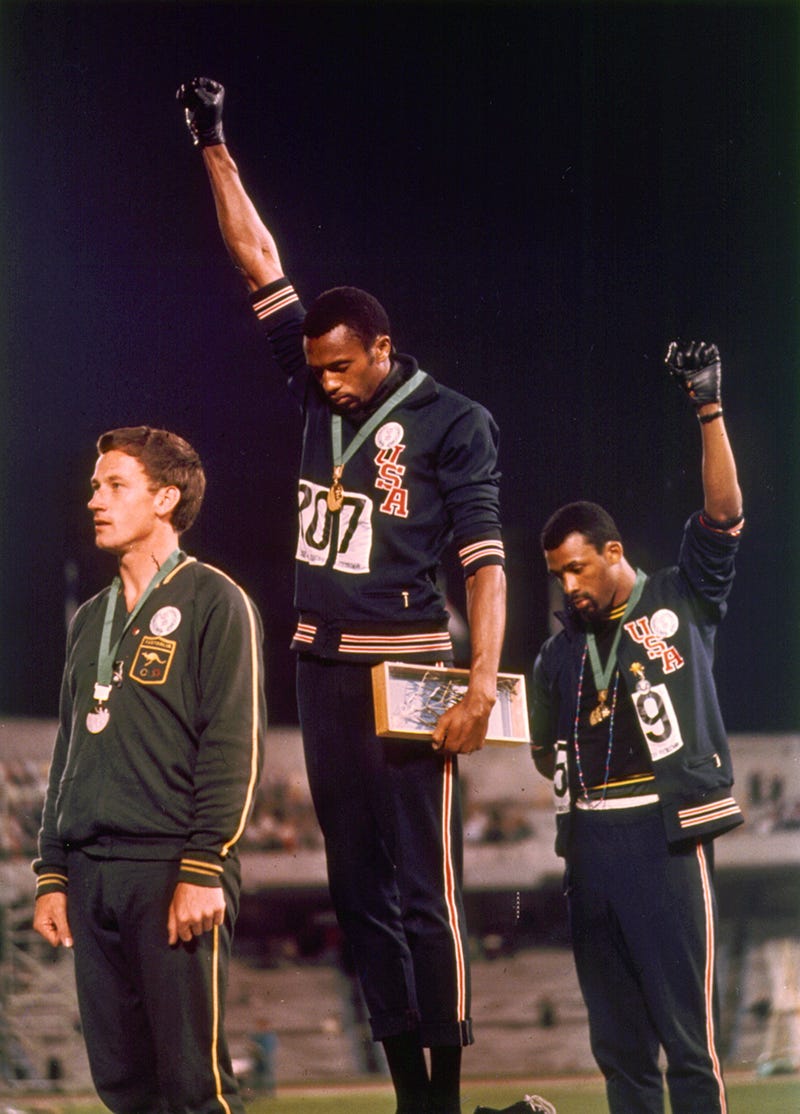 Iconic. There is no other way to describe the picture—that picture—from the 1968 Olympics. Two of the best athletes in the world, confirmed just moments before, stand on the medals podium raising their gloved fists in protest.
It was shocking. Unsettling. It was ballsy as hell. Their act of civil disobedience on the world's largest athletic stage has echoed for the last 46 years.
"Think about how hard it was for us to come together to do what we did, as opposed to them having 12 guys, and getting them all on the same line to take a stance," Carlos, now 69, says, referring to the Clippers players' response to the racist comments of their owner. "When you have a whole group that will sit down and have some common ground, to say, 'This is something we need,' and manifest themselves into one, they can confront any organization."
Smith and Carlos's fists were their Plan B. Joining the Olympic Project for Human Rights (OPHR) before the games, the original goal was to create a black athlete boycott of the '68 Olympics, the efficacy of which the Clippers would have almost 50 years later. But Martin Luther King, Jr.'s assassination and the International Olympic Committee's reinstitution of the ban on pre-Apartheid South Africa eroded the group's momentum, and OPHR's members began defecting. Unlike the Clippers players, Carlos and Smith were on their own.
"It was difficult for individuals that were trained all their lives believing that the Olympic medal was the golden nugget to sacrifice that opportunity," Carlos says. "No doubt we'd have set a precedent. These individuals are willing to sacrifice their dreams as an Olympians to make a statement for humanity."
But Carlos and Smith knew they would have a moment, even if it was a Plan B, and Carlos says that was the reason he was traveling to the Games. It wasn't about what color his medal was, it was just getting a medal so that he could make his statement.
For their gesture, the pair would pay a heavy price. Their athletic achievement was disqualified, and they were scorned and hated by their own county. A young Brent Musburger, writing for the Chicago American, would get his big break by calling the two "black-skinned storm troopers."
But Carlos, even after a long life, remains outspoken, including on the NCAA system. "It's a tremendous amount of money going down, and I think in this day and age, it's obscene for them to say individuals are not allowed to receive gratuities for their efforts on the athletic field," he says. "Most definitely I think changes should be made."
That same support extends to track and field's embryonic attempts at a union. After the Olympics, Carlos only ran one more season of track, during which he tied two world records. But there wasn't a way to make a living doing it—which echoes many of today's track and field athletes—so he switched to pro football, which included a year-and-a-half for the Philadelphia Eagles.
"I just think that track and field needs to pull their strings a little tighter, from the administrative side as well as from the athletic side," he says. "We had the greatest sport in the world at one time, ahead of baseball and basketball, because we were the true international sport."
He goes on, "I'd like to see all of them make some money—there's enough around. There's possibility, but there has to be unification in order for these things to come about. Collectively, I think the whole concept of track and field can rise back to the top again."
Regardless of sport, the athlete has a responsibility to take a stand for justice. An athlete can't just break big, Carlos says, and then "float away" into celebrity.
"I would hope they don't wait to get to the medal stand," he says. "I'd like to see more outspoken individuals, period, on issues that concern their environment, their society. You can't just go off into celebrity world and think that you're separated from your community."
There was a terrible cost for standing up to a country and his sport's governing body. He and his wife received death threats, they divorced, and he was blackballed from all but the most primitive manual labor jobs for years. But despite that, John Carlos has never regretted his actions at the 1968 Olympic Games.
"Individuals have to stand up," he says. "We weren't violent in Mexico City. But I think the statement we made was powerful enough to vibrate through our society for the last 46 years."
[The John Carlos Story is now available through Haymarket Books. Photos: AP Images]