There's so much talking on WWE Raw. It always opens with a promo and sometimes they just talk talk talk. For every great Paul Heyman promo there are two segments that just drone on and on and on. It happens. The show's three hours! What else are you going to fill time with, wrestling?

Anyway, enough complaining. Last night WWE Raw ran one of its best segments of the year, and it was a promo. More than that, it was a promo between John Cena and Roman Reigns. And it was great!
The set-up for the segment was as simple as this: Cena and Reigns are going to have a match at next month's No Mercy pay-per-view, and this was the contract signing. It could've been bad. But instead, Cena and Reigns cut back-and-forth promo that broke the fourth wall, entertained the crowd, and really made me want to see their match in a month.
Here's the backstory: Roman Reigns is essentially the new John Cena. He's a wrestler who has been pushed to the moon. He looks the part of a traditional WWE superstar: He's a jacked-up monster who also looks friendly enough to do charity events.
But, like Cena, Reigns is not accepted by all of the fanbase. He gets booed a lot. Kids tend to like him more than jaded punks like me who grew up on ECW, the Attitude Era and rec.sport.pro-wrestling. Though a lot of people (including me) have softened on Cena in recent years, both he and Reigns are booed by a large portion of the audience. Many people think they'd be better as heels.
And so they cut a promo where they, basically, made fun of each others' positions in the company—in terms that left the bounds of traditional wrestling storytelling. Cena talked about how Roman was supposed to be the next John Cena, but hadn't lived up to his own billing. He called him a "John Cena bootleg." Roman retorted that Cena, now basically a part-timer, is a master of spin. "Y'all boo him because you want him to be a bad guy? They boo you because, first of all, you suck."
G/O Media may get a commission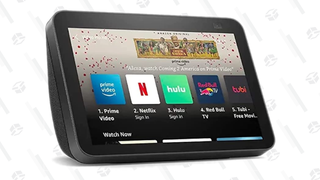 Then came a cool part of the promo. Cena interrupted him, Reigns told him to shut up, Cena mocked Reigns for forgetting his lines and even talked about breaking the fourth wall. "It's called a promo, kid, if you want to be the big dog you're gonna have to learn how to do it. See ya, fourth wall!"
Later, Roman even cursed! "The reason why they boo you is because they see right through you. You're a phony. You're a yes man, who can learn how to do anything or be anything. So if you wrap all that up, you're just a fake bitch.… and I'll be damned if I'm gonna bust my ass Friday, Saturday, Sunday, Monday, every day of the week, so you can hang out on the Today show."
The guys continued to bury each other until Luke Gallows and Karl Anderson came out and ended up losing a tag match to Reigns and Cena. (I liked this! Heels of all levels should always been gunning at the top faces. Why wouldn't Gallows and Anderson come out to yell at these guys?)
It was almost all scripted. And this kind of thing won't work all the time—or maybe ever again. But last night, it was kinda great.