What happens when you get close to John Daly with an item that isn't either donuts or booze; he destroys it. Here's Australian Open fan Brad Clegg and what used to be his camera.
It was the first round of the Australian Open, where the only real danger usually comes from masturbating kangaroos. Daly had just hit his tee shot into the trees on the ninth hole, and trudged in to find the ball. His 6-over 78 did not have him in the best of moods. That's when Clegg tried to capture the magic moment with a few close-range photos.
Daly snatched the camera and smashed it against the nearest tree, telling the man, "You want it back, I'll buy you a new one." He later released a statement via tournament organizers saying Clegg got too close.

"I was looking to take a drop and a camera was 6 inches away from my face. If I was 10 under, I would have felt the same," Daly said in the brief statement. "My eyes are still burning from the flash of the camera. I feel it was very rude to put a camera that close to somebody's face in any situation. The guy that had the camera had already taken a dozen shots at close range."

Said Clegg, who will not seek restitution: "I was bold, but I wasn't unreasonable."
Daly will most likely miss the cut (as he did at the Australian Masters and the PGA in the last two weeks). He had three double bogeys, three bogeys and four birdies. So can you blame him for going off? I mean, he was arrested drunk outside a Hooters and it didn't even get him a SHOTY nomination. No respect!
G/O Media may get a commission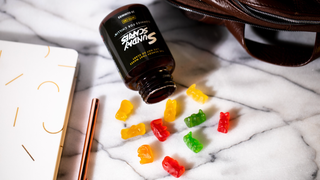 10mg CBD Gummies (22-Count)
Daly Grabs Fan's Camera, Smashes It Into Tree [NBCSports]