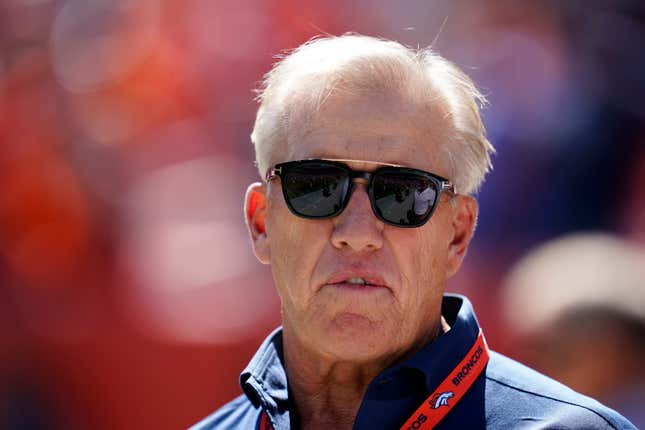 John Elway's tenure with the Denver Broncos was mercifully sent to the glue factory Wednesday, and he can now add "consultant" alongside "general manager" and "Super Bowl-winning quarterback" to the list of roles he formerly occupied for the organization. Thankfully for Donkos fans, Elway got out before he could draft any more 6-foot-7 quarterbacks and further sully the ring the team won during his time.
Black Quarterbacks = Big NFL Ratings | The SEO Show
The Super Bowl 50 win/Peyton Manning moment was one of few indications that Elway was good at his job, but it was more than enough to preserve his deification in the eyes of Coloradans. Now, Denver can focus on trying to resuscitate Russell Wilson and Broncos country, and fans can go back to ignoring Elway's politics.
I'm never in favor of franchises or schools hiring hometown heroes to correct the ship because very few can usher in the fairytale endings they did as players, and more often than not meeting your heroes is a terrible idea. This is one of the rare instances where it's mostly worked out despite the groans we've heard from Broncos' fans since Manning retired.
Elway was not the only GM to whiff on QBs
Denver was part of a recent trend among franchises to acquire superstar QBs late in their career and was the first to ride the move to fruition. Tampa Bay was able to do it with Tom Brady before he stepped away, and though Matthew Stafford might have a lot less in the tank than we previously thought, he had the juice required to bring Los Angeles a championship.
Denver is having less success with the old QB strategy this time around, but that could be more on Wilson than the roster Elway helped construct. With the exception of a consistently reliable offensive line, the team has had its fair share of talent over the past eight or so years, especially on defense. Last year was no different, even leading to apparent rifts because the defense carried the offense.
While this move was telegraphed when ownership changed Elway's title to consultant in 2022, I'm shocked he lasted as long as he did. NFL success depends on who's under center, and every option since 2016 has been a towering flop, and I'm not just saying that because of Elway's obsession with
Here are all the quarterbacks not named Manning to start games during the Elway front office era: Joe Flacco, Teddy Bridgewater, Case Keenum, Trevor Semien, Drew Lock, Paxton Lynch, and Brock Osweiler. There are even a few Brett Rypien and Brandon Allen games in there, and lest I forget Tim Tebow and Kyle Orton.
I fancy a few tall quarterback jokes at Elway's expense as much as the next snarky internet writer, so it thrills me to point out that Denver used either a first- or second-round pick on Lock, Osweiler, and Lynch. The three are a combined 25-31 during their NFL careers, none are still with Denver, only one is still in the league, and he lost a QB battle to Geno Smith last offseason.
Be that as it may, if you look at the quarterbacks Denver had a shot to draft during those years — 2012, 2016, and 2019 — the only glaring miss by Elway was Lynch over Dak Prescott. Personally, I would've taken Prescott, but that's because I value college success over who possesses an NFL body and would've been fired 18 times over for my choice of QBs.
Elway's front office career is textbook two things can be true at once. Yes, he brought Denver a title and talented rosters, yet the one thing that every successful team requires, he failed to deliver once Manning retired.
I know it sucks that Russ couldn't "win one for John," but Elway should be thankful that his array of Denver Chrysler, Dodge, and Jeep dealerships will still be looked upon fondly and not as if they're owned by the guy who is running the Donkos into the dirt.