Johnny Manziel, who appears to have spent Saturday evening in Las Vegas, had a Sunday morning appointment with the Browns. He didn't show up, and when the team called him, he didn't answer. It's what feels like a fitting and ominous final act for Manziel's Browns career.
Manziel had a 9 a.m. appointment at the Browns' facility in Berea, Ohio, a mandatory visit with team doctors as part of his concussion protocol. According to Peter King, he no-showed it. By the end of the day, the Browns still had no idea where he was.
"It is my understanding that he was not there this morning," said [owner Jimmy] Haslam.

"When you go through concussion protocol you don't come to the games," he said. "I'm not exactly sure where Johnny is. Haven't talked to him. I know our football people will be on top of that.''
G/O Media may get a commission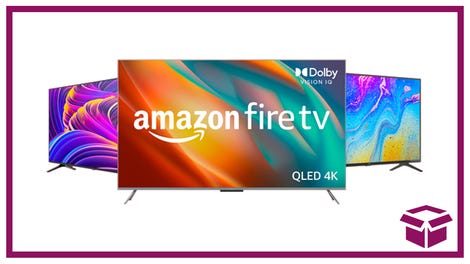 Ooh. stunning.
New Amazon Fire TVs
A team spokesman said the last they had heard from Manziel was Saturday morning, when he reported for treatment. Saturday night, a USA Today report put Manziel in Vegas, though Manziel cryptically countered with an Instagram photo geotagged in Avon, Ohio.
It's the latest in a series of what might accurately be termed relapses for Manziel, who after his stay in an inpatient rehab facility last offseason swore that he'd try to fly under the radar. In October, a roadside argument with his girlfriend that involved alcohol. In November, a video, that he tried to cover up, of him clubbing with a bottle of champagne. Last week, a video of him with a can of Four Loko.
The Cleveland Plain Dealer reported this weekend that the Browns have grown "increasingly concerned" over Manziel's partying. And this morning, Bleacher Report's Mike Freeman quotes a Browns assistant who says that Manziel has the staff constantly living in fear of whatever the next incident will be.
The assistant, who asked not to be identified, said the concern of the staff was that while Manziel did recently prepare harder and play better, there was always "the concern that another report would come out about Johnny or he would do something not smart."

"Frankly," the assistant said, "Johnny scared us."
Yesterday evening came a bare-bones and unsubstantiated report from a Cleveland radio guy, citing another Cleveland radio guy:
That report was shot down by now-ex-coach Mike Pettine. "No, no, no," Pettine said, "that is not the case."
But this is the point the Browns have reached with Manziel, where a single weekend can bring three separate reports, one the team confirms, one it denies, and one it throws up its hands and says "we don't know." It's untenable, and it's almost over. As Haslam pointedly noted yesterday, when talking about the importance of the quarterback position, that "we do have the second pick in the draft." And Manziel reportedly wants out to go to the Cowboys.
Why would Dallas want him, though? His two pro years have been disastrous, and things (publicly at least) have only gotten worse since his rehab stint. No one around the league and few in the media are willing to say it publicly, but Manziel almost certainly suffers from alcoholism. This latest incident, stripped bare, is Manziel's lifestyle directly getting in the way of him meeting his work obligations. That's a strong and classical sign of clinical alcohol dependence.
Johnny Manziel isn't well, and it's not the kind of unwell that can be fixed by a change of scenery—especially not one that puts him closer to his favorite haunts in Texas. But I don't know what, if anything, the Browns can do for him. It sounds like they're done trying.