Wonderful American sports superstar superskating phenomenon Johnny Weir has granted his first interview to a gay sports publication! (I know, right?)
Some highlights!
It's not like anyone goes up to Michael Jordan asking, "Hey, are you black?" For me, those kinds of things make a person up. I've never once asked a person if they are gay or black.
He is making me rethink my racism!
I love my fans, but after the last Olympics I got pretty burned with people who sent death threats, and PETA was after my ass, and there were people who would show up and videotape me, there was a lady from Brazil who found out where I lived and sat at the end of my driveway.
And my stalking. :(
And on Venus and Serena:
But if you're good enough and strong enough in your head, it doesn't matter if a Plushenko or a Lambiel come back. Or a Williams sister. But I'd be scared shitless of the Williams sisters. Those are some big girls to get on their bad side.
G/O Media may get a commission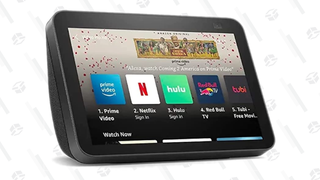 Uh oh. GIRL DON'T GO TO QUEENS THIS WEEK.
Oh and there is apparently a movie?