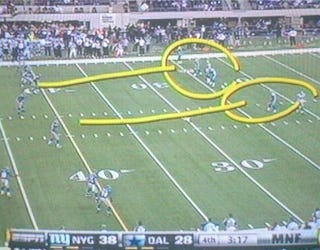 Because no one reads the newspaper, and SportsCenter's anchors are too perky for this early in the morning, Deadspin combs the best of the broadsheets and internets to bring you everything you need to know to start your day.
• After some collarbone business, the Cowboys-Giants game turned into something resembling a shootout. But Jon Kitna was involved so, we all know how that turned out.
• The World Series starts tomorrow and shockingly, low ratings are expected.
• And in two years time, we might still be in the Wild Card rounds at this time. Anything to get the Red Sox into the playoffs, I guess.
• Did the Blue Jays hire John Farrell only so they would have a crack at Manny Ramirez?
• Jay Mariotti's herky jerky romance with Twitter continues.
• The original 13 rules of basketball are being auctioned off. Legend has it there is a code that leads to James Naismith's gold in them there rules.
• Paul the Octopus, of World Cup prognosticating and octopus fame, has passed away at the tender age of 2.5.
Photo via Max; more telestrator dong here.
*****
Good morning. This one's for the octopi.