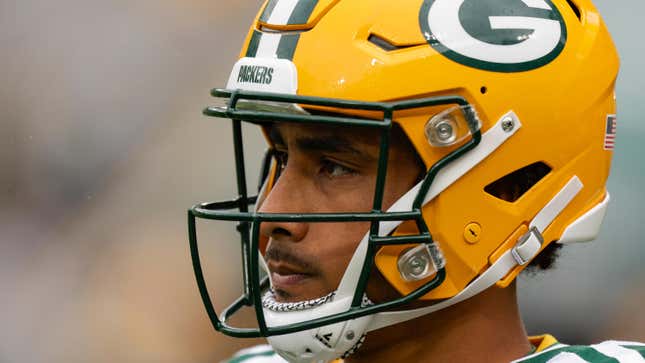 Green Bay took the Jordan Year literally. Early in 2023, general manager Brian Gutekunst read all the stars and tea leaves, glanced at Aaron Rodgers' advancing age — not to mention his diminishing mobility and prima donna behavior — and named the Packers' latest first-round QB pick, Jordan Love, as the undisputed starter.
Was Trey Lance Kyle Shanahan's biggest mistake? | Agree to Disagree
Gutekunst's handling of Love is a testament to patiently developing NFL quarterbacks. It's too early to make summary judgments about Love's value, but his preseason snaps depicted a quarterback with a grasp of his surroundings. In November, Love will turn 25. Lance turned 23 in May. Under certain lighting, both look like they could commit identity theft on each other, but only one has a career worth stealing.
With less than a week remaining before the regular season debut of the post-Rodgers Packers, Love has the backing of the entire organization. The ease with which Green Bay made Love comfortable stands in stark contrast to the shambolic mess the Niners created around Trey Lance.
Meanwhile, there have been casting auditions that lasted longer than Trey Lance's stint at the helm of the San Francisco offense. Lance was pushed aside for Sam Darnold to serve as Purdy's backup in the preseason and his fate was sealed. Kirk Cousins and Robert Griffin III co-existed a season longer than the Lance and Purdy battle brewed. Shanahan witnessed two seasons of that as the Redskins offensive coordinator and ultimately opted to skip to the end. Purdy was really good as a rookie, but so was Gardner Minshew. What happens if he regresses? Sam Darnold is the anointed backup, which means he'll probably start half the season if the past is prologue.
In three preseason appearances, Darnold was more consistent, but that's what you'd expect out of a pocket quarterback entering his fifth season. At least with Lance, the upside is there. Getting bailed out by the accidental emergence of Brock Purdy has kept John Lynch and Kyle Shanahan from getting dropped into the middle of the Pacific. The cult of Sam Darnold has its believers, but not enough to lift San Francisco to the promised land should something happen to Purdy.
The 49ers could argue that they didn't have the benefit of bringing Lance along slowly, but Love inherits a roster that reached the NFC Championship Game two seasons ago and nearly returned a year later. The core of the roster remains, but the Packers prioritized long-term stability over the annual whims of their melodramatic ex-MVP.
While Lance was stuck in developmental hell, Love was given time to blossom. Two years ago, Love made his first Packers start on the road against the Kansas City Chiefs and was outclassed in a gritty 13-7 loss, completing 19 of 34 passes for 190 yards, a single touchdown, and a matching interception. The Packers offense could only muster seven points and the lasting image was Love's mother watching from the nosebleeds. If you'd told me then that the Packers would stick with Love for two years, I would have called you a bigger liar than Brett Favre. In three preseason contests, Love threw three touchdowns, no interceptions, and earned a 109.8 passer rating. Conversely, Lance's final preseason with the Niners was a spectacle that ended with him being traded to Dallas for a fourth-round pick. Ultimately, everyone lost in that trade.
However, while Lance completed only one full season of FCS ball, Love had three seasons of experience under his belt. In his junior campaign at Utah, Love attempted more passes than Lance has thrown since high school. He also donated more interceptions than Lance has, leading the entire FBS division in 2019. Love's penchant for turnovers was the biggest knock against him.
His mastery of Rodgers' patented back-shoulder throw into the end zone was evident on his touchdown pass to Christian Watson during their final preseason tune-up. Love's chemistry with his young receivers is a much more positive dynamic than Rodgers' lecturing.
While the Jets have been Hard Knocks headline makers, the Packers have enjoyed a serene offseason. Love's stellar preseason has only further entrenched him as the unquestioned leader in Green Bay. He still has to prove his mettle in the regular season, but the Packers displayed why they're consistently among the NFC's best.
 Follow DJ Dunson on X: @cerebralsportex