The Browns announced Saturday that they had suspended wide receiver Josh Gordon for violating team rules, and placed him on the reserve/suspended list. According to Michael Silver, as well as numerous other reporters, Gordon (and Johnny Manziel, who is on injured reserve) missed a walk-through for the 7-8 Browns this morning. But the reason the Browns are suspending Gordon is more complicated than simply missing a walk-through.
If you recall, Gordon was initially suspended for the entire season after testing positive for marijuana by the NFL's bogus testing procedure and policy. This suspension was eventually cut back to 10 games, meaning Gordon was on track to play six games before this latest suspension. As it turns out, being on "full pay status" for six games has very important contractual ramifications for NFL players.
As this helpful breakdown from Niners Nation explains in-depth, to be credited with an "accrued season requires 6 or more regular season games at full pay status," which Gordon will just miss out on by being placed on the reserve/suspended list (instead of, for instance, being suspended for the first half, or just not being played).
G/O Media may get a commission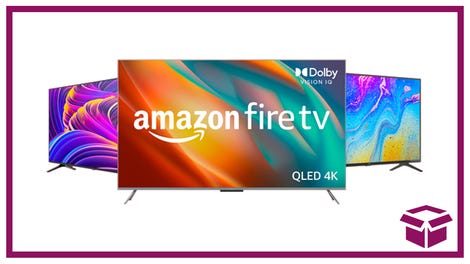 Ooh. stunning.
New Amazon Fire TVs
After being chosen in the supplemental draft in 2012, Gordon signed a four-year, $5.34 million contract with the Browns. Under normal circumstances, he would become an unrestricted free agent following the 2015 season. But to become an unrestricted free agent one must have four or more Accrued Seasons, and Gordon will have just three. Instead, he will be a restricted free agent (which requires three Accrued Seasons). Assuming the Browns extend Gordon a qualifying offer, they will be able to match any offer he receives from another team, and if they choose not to match the signing team will owe the Browns a compensatory draft pick.
Baseball teams often make decisions about when to call players up based on whether it will allow them to achieve Super Two status and thus become eligible for arbitration a year earlier than normal, but I can't recall this sort of decision-making ever impacting NFL playing decisions before, likely because being on "full pay status" (which includes the inactive roster and injured reserve) for six games is so easily achieved. In fact, the Niners Nation breakdown notes "I can't find any specific examples where a player played enough games for a credited season, but not enough for an accrued season." Since a Credited Season (which has to do with the NFL's retirement plan) only requires three games at full pay status, it looks like Gordon will be the first.
Photo via Scott Cunningham/Getty