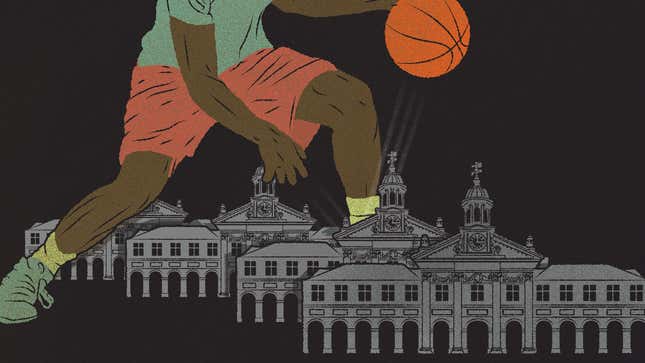 You've likely never heard of Joshua Simmons. You certainly hadn't heard of him when he entered his name in the NBA draft. Five years ago, at 20 years old, Simmons was on the NBA's official early entry list, despite having played just a handful of games at a junior college 30 minutes east of Greenville, S.C. By the time the list was released in May 2013, Simmons wasn't even listed on Spartanburg Methodist's roster—the only indication the 6-foot-5 wing had ever played for the program was the 5.2 points he averaged during his 13 games of eligibility.

Simmons was about to begin of his 15 minutes of fame, an experience he would come to hate in real time. But, five years and four schools later, he is only now winding down his remarkable college hoops career, and with something quite like closure.
Not that 2013 Simmons, with his eyes on the NBA, would have considered graduation a success. As a wholly anonymous prospect, Simmons shouldn't have stuck out—he shouldn't even have been on there, really. But the 46-person early entry list provided the first inkling of who might be celebrating in Madison Square Garden's green room—entrants including Anthony Bennett, Victor Oladipo, and Otto Porter, who became the top three picks—every prospect was scrutinized just a bit more, whichis how Simmons—the only juco player listed—became known as the"most interesting NBA draft prospect in the world,"and was mocked as a goof. He was seen as a publicity stunt, someone hardly worth any attention other than ridicule. A nine-minute workout video titled "The Juice Story" purportedly showed off the prospect's skillset but consisted solely of uncontested elbow jumpers, adding to the mockery.
"It's a running joke," DraftExpress's Jonathan Givony told me back in 2013. "We always talk about who is going to declare this year—these are the guys who don't play basketball or just have no business submitting their names, but you can't stop people from faxing in an early entry declaration. It's a pain in the ass."
After several write-ups in outlets like the Sporting News, which outlined his background and his supreme confidence ("I'm going through doors most people never dream of going through. But I'm comfortable."), Simmons wasn't among the 60 players selected in the 2013 NBA draft. He wasn't one of the dozens or so who played for a summer league team, and he wasn't one of the hundred or so signed to a D-League contract. When I spoke with Simmons in the heady days following his draft announcement, he was frazzled by the attention but undeterred by the scrutiny, saying, "Once I decided to leave school and devote 100 percent of myself to basketball, it'd be too easy to give up."
By that fall, though, Simmons had faded from the headlines and from the sports media's collective consciousness. The person known to his friends as Juice—"I've got that juice in me, that fire"—had disappeared, just like the other foolhardy entrants who had previously faxed their draft intention to the NBA just to see their names listed alongside the actual top prospects. "He was just someone to talk about for 15 minutes," Givony says.
Until this past year, when Simmons, now 25, resurfaced. Today, he is one of the most fascinating players across the college basketball spectrum, and certainly with one of the strangest resumés. He had bounced from junior college to the NAIA, suiting up for Billy Gillispie and then Dave Bliss—coaches of ignominious repute—before finding himself in New Orleans, playing the last semester of his college career as a Bleu Devil at Dillard University. Both the squad and the senior wing have flourished—since he became eligible in mid-December, Dillard has gone 12-3 and Simmons, who is capable of playing all five positions on the court, is averaging a double-double (17.7 ppg, 12.5 rpg). His versatile skillset, described by Bliss as the "power wing" position, was on full display in a late January game against Xavier (La.), Dillard's longtime rival in the Gulf Coast Athletic Conference. Simmons scored 17 points, grabbed 16 rebounds, and dished out four assists, including setting up the game-winning three pointer with a skip pass in the final minute.
Dillard ended the regular season atop the GCAC standings, which marked the school's second league title in 12 years. This weekend, the top-seeded Bleu Devils will begin play in the GCAC tournament. And should Dillard win its next three games, the school will be a favorite to win the NAIA tournament.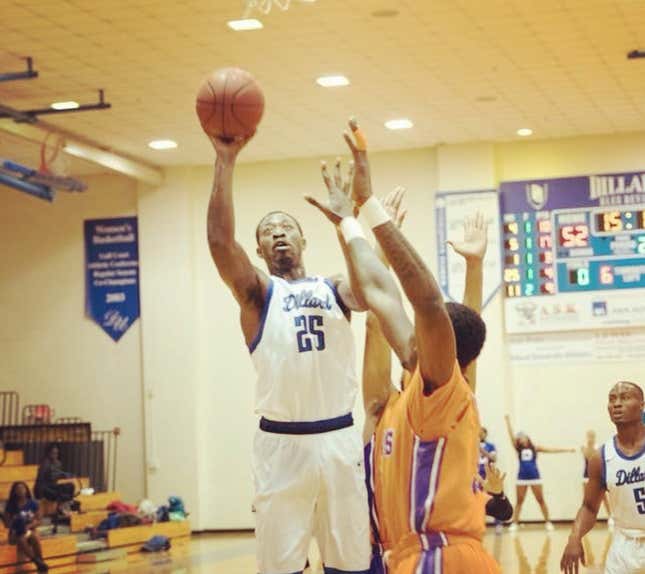 "If you are a one-semester guy, you've got to light it on fire," says one GCAC coach. "And that's what he is doing. Josh is the engine that helps them go. Someone with Josh's talent doesn't come around that often in this league."
That Simmons is in his mid-20s isn't itself unusual—as Bliss, Simmons's coach at Southwestern Christian University, told me before he was fired this summer, "The NAIA is the last best chance for most kids to play college ball"—but he is the only player still in college five years after declaring for the NBA draft.
"Josh really wants to be successful and play professionally at some level," says Brian Good, the head coach at Wingate, a Division II school in North Carolina (and Simmons's first stop on his six-year, multi-college journey). "It's his number-one driving force, which has led to him bouncing around a lot. Most guys want the same thing, but over time, they realize the path isn't as easy as when they were coming out of high school. To Joshua, that doesn't matter."
"I can't fault a guy for having a mindset of going for what he wants to achieve," Good says. "But I've never come across a situation like his."
---
Simmons declined to comment for this article, but when we spoke in 2013, he described a childhood spent doing his own thing. Though Simmons started playing in AAU tournaments around age 10, he didn't join a team until he reached high school, when he starred at the Glenforest School, a small school in West Columbia, S.C. that is far off the high-major recruiting circuit. "I was a loner," he recalled. "I didn't have an actual team to play with, so I just would play with friends I grew up with, traveling by myself to tournaments all over the south."

At Glenforest, Simmons scored nearly 3,000 points, winning three state independent school POY awards. He says several DI schools recruited him, including The Citadel and Presbyterian, but until Good sent his assistant in December 2010 to see if the Class 1A prospect averaging 31 points per game was legitimate, Wingate was first program to give a firm offer. "Josh's school wasn't known for producing exceptional athletes, so he looked out of place," Good remembers. "Josh looked like a grown man playing with boys. He was as physically gifted an athlete as I have ever recruited."
Because Simmons didn't qualify academically for Wingate, he had to sit out his first season at the DII program, which was fine by Good: "He's the only non-qualifier I've ever taken in my 10 seasons—he is so athletically gifted that I knew if he went to junior college, we'd never get the chance to recruit him again."
Though Simmons had spent much of his life far from home—"I've always been a traveler," he says, "and my mom is just a phone call away if I needed her"— he was unaccustomed to the demands of becoming a full-time college student. Simmons was like many other college freshman, Good says, "struggling to take care of things and not prepared to jump from a small high school to a college setting." After his first semester, Simmons was failing every class, and Good advised him to transfer to a junior college where he could improve his academic standing and potentially return to Wingate after two years. "I just didn't want him to have one poor semester ruin the rest of his transcript," Good says.
And so, after just a few months, Simmons was on to the next stop of his collegiate tour: Spartanburg Methodist College. His plan was straightforward: he hoped going to SMC would help "get my head on right"; he wanted to give the school "a chance." But since he wasn't eligible to play until the following fall, academics was his only tether to SMC, and "I got overwhelmed by it and wasn't ready for the school thing." Also, Simmons wondered, if he wanted to play in the NBA, would playing at a junior college really be the springboard he needed? "Who knows where I could be if I got in the right hands?" he recalled thinking.
As Simmons's mother told the Sporting News, "He thought, he could either be all-in academically, or all-in athletically. He told me, 'I can give it two years of putting myself into this; then if it doesn't work, I can go back to trying academically.' He either wants to do 100 percent of one or 100 percent of the other, and for right now, he wants to give 100 percent of himself to basketball."
Around this time, Simmons met Barry Reed, whose LinkedIn account describes him as a "basketball trainer/scout/mentor." Reed did not respond to numerous recent requests to comment, but when we spoke five years ago, he told me he wanted to help Simmons transcend the "politics" holding him back—though he never explained exactly what those "politics" were. "If this was the 1990s, Josh would have done the same thing Kobe or Garnett did," he says. "He went to SMC to showcase his talent, but the politics that be, he couldn't do that."
Reed added, "Me being a trainer and coach on the high school level, I see those politics all the time, and the politics that Josh went through, he had to walk through different doors to get where he wanted to go, so I told him that I'd help him navigate those politics." (Reed said he had coached at Mt. Zion Christian Academy, Tracy McGrady's alma mater, but then-coach Stephen Baines said Reed's employment with the school was unofficial: "He wasn't on contract, just more around to help out if he was needed.")
The plan hatched by Simmons and Reed seemed staggeringly simple: drop out of SMC, train several times a day—from CrossFit to shooting and ball-handling drills—throughout the spring of 2013, stir up pro interest through workouts, and then sign with whoever presented the best opportunity, whether in the NBA or overseas. "It's too easy just to give up," Simmons told me then. "If I don't make the league, China is always an option."
But first he had to declare for the draft. In a letter addressed to "Commissioner David Stern" and signed by Simmons, the prospect's plan was laid bare: "I unrolled [sic]...to begin training for the NBA DRAFT to be a professional basketball player."
Looking back, Simmons's thought process can be considered naïve at best, but for someone who always had one foot outside the boundaries of the summer circuit and college system, the idea that he was the ultimate needle in a haystack held some appeal. As Good, Simmons's coach at Wingate, told me, "If you want to give something a shot, don't wait. Lots of guys can do it right now rather than wait four years."
Reed had told his protégé the same thing: "You're going to have challenges because you don't have the proper stats," he told Simmons, "but the NBA doesn't care about your background—only that you can play ball. You just have to make them a believer."
---
Though his newfound mentor spent evenings that spring schooling Simmons on NBA and draft history, it's unknown whether Reed ever explained the slim odds that juco prospects face upon entering the draft. Qyntel Woods, who was picked 21st by the Portland Trail Blazers nearly two decades ago, was the last player drafted straight from the juco ranks. Prior to Simmons, there had been at least one juco player on several early entrant lists. But unlike the "joke" entries that persist among DII or DIII players—John Sloan of Huntingdon College (Ala.) averaged 2 ppg before announcing his draft eligibility in 2010, after which his school's athletic department put out a statement declaring "this is in no way a serious submission"—jucos are generally more dogged in their intentions.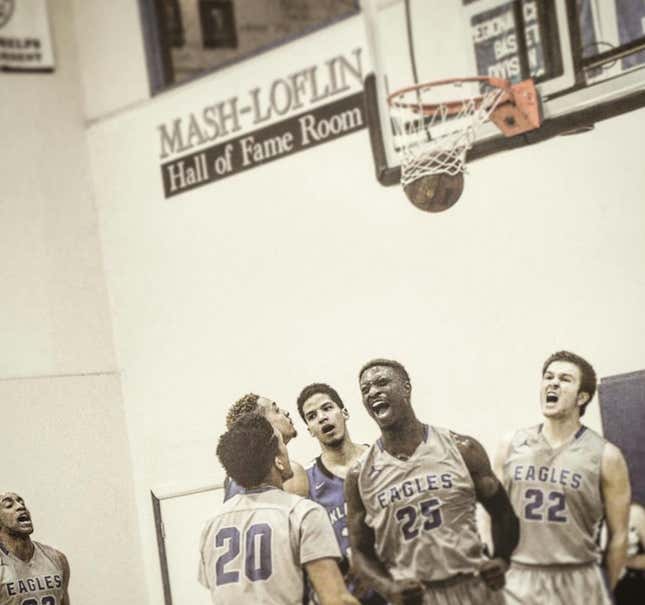 If Joshua Simmons had any doubts, they didn't stop him from releasing the infamous workout video. Reed explained Simmons's half-speed workout as the by-product of a tired athlete who had just wrapped a three-hour shooting session: "Even the great Kobe Bryant can't go 100 percent after that long a workout." Reed also began to contact agents on Simmons's behalf. But amid all of the training, interviews, and talks of participating in future summer leagues and exhibitions, Simmons began to reconsider. He was on the verge of making "history," he said Reed told him, but at a certain point, Simmons must have realized how unlikely it was that this partnership would lead anywhere beyond the confines of his native South Carolina.

Simmons told me that he had searched for proper guidance his entire life, and for a spell, he believed Reed could provide that much-needed nurturing: "I needed someone to help me get to this place." That's why he left Spartan Methodist; that's why he didn't return to Wingate, or transfer to another school to build his on-court resume. He believed in himself, and now he had found someone that shared his confidence—and then some. But Simmons was only 20 and had lived what he described as a "sheltered life," so he found the possibility of seeing his dream of playing in the NBA shatter mentally devastating. Though Reed boasted of agents contacting him, Simmons never signed with anyone, and 10 days before the Cleveland Cavaliers selected Anthony Bennett with its first pick, Simmons was yet again a regular student looking for a new college home.
For the first time in Simmons's life, basketball wasn't a salve. He was embarrassed and hurt, not so much by the media dragging as by being led astray by those whom he trusted to provide guidance but had instead given him terrible advice, putting him in the situation in the first place. He enrolled at a local technical college, and much of the basketball he played in 2014 consisted of pick-up runs at a local gym.
All of Simmons's moves did have one unintended consequence. Undervalued and overlooked throughout his initial college recruitment, Simmons's game was now in high demand nationwide, especially among programs that needed a player loaded with potential but didn't mind one who was rough around the edges. One coach in particular was enamored: Billy Gillispie, the former head coach at Texas A&M and Kentucky who had resurfaced at Ranger College, a junior college 100 miles west of Dallas. So Simmons was again bound for junior college, enrolling at Ranger as a freshman for the 2015-16 season.

"School was just tough for Josh," says Good, but that didn't matter to the handful of schools that reached out to the Wingate coach prior to Simmons's commitment to Ranger. "Billy wasn't the only one in that league to pursue Josh."
There weren't many players like Simmons at the juco level—a forward that married shot-blocking, ballhandling and passing vision, and three-point range. And he was still growing: he had sprouted an additional two inches and now stood 6-foot-7. Gillispie had been tasked with revitalizing Ranger's once-proud program, not to mention jumpstarting his own career, which had been tarnished by a DUI arrest and allegations of mistreating players. Simmons and Gillispie would use each other to rehab their respective images.
At first, the plan worked. Simmons averaged nearly a double-double while Ranger, on the heels of a 31-7 record (including a 28-game winning streak), earned an at-large bid to the national junior college tournament, finishing fourth in juco's March Madness. The success, though, was brief. Whispers about the Sporting News article from three years prior had swirled around the squad and its miraculous turnaround during the 2016 season, and those same whispers reached the desk of the NJCAA's assistant executive director, who emailed Gillispie that spring. "It has been brought to our attention that Joshua Simmons declared for the 2013 NBA Draft. Were you aware of this?"
Unlike the NCAA, which allows players to declare for the draft and then return to college (provided they haven't signed with an agent), the NJCAA is more stringent with its eligibility policies. Even though Simmons removed his name from the NBA draft board, he was ineligible just by acting on those aspirations. Ranger appealed the ruling, arguing that Simmons told school officials he "didn't knowingly enter his name in the draft"; according to Simmons, one of his trainers had added his name to the early entrant list. In a letter from Simmons' mother, she asked, "do we take away a voice that is finally speaking because of an impulsive decision…on behalf of a child that he thought was ready for a life he would not have been able to handle, or do we allow the journey to play out?"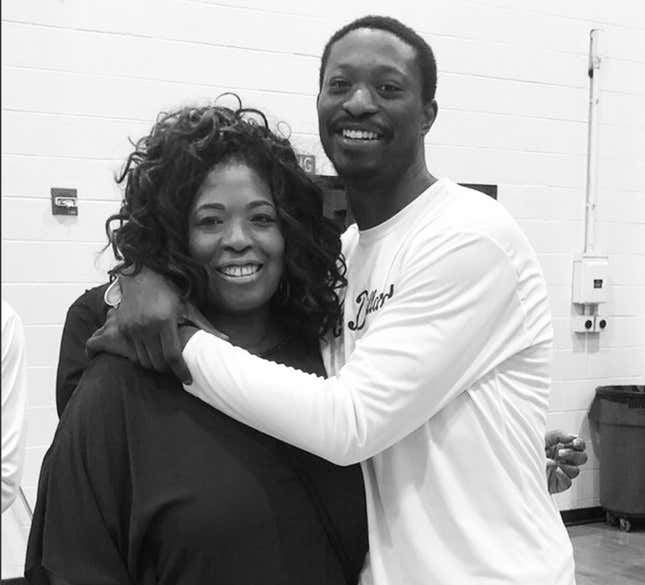 When I spoke with Simmons, he confirmed his mother knew of his decision: "Coach Reed came to our house and talked with my mom. That was a fight—you know how moms are." Simmons was also adamant that he believed playing professionally was his best move at the time, saying, "I was really worried about going to the NBA, and I wanted to get this year, do what I got to do, and then go."

Simmons' mother declined to comment for this story, citing a respect for her son's wishes, but she intimated that Simmons had been used—a far cry from what he and I had discussed in May 2013. The arbitrator didn't find that argument compelling, ruling that "whether or not he personally submitted his declaration (although there was additional persuasive evidence… that he himself signed the declaration and knew he was an early entrant into the NBA draft)…this constitutes a violation."
Ranger was placed on probation for the 2017 season, and the program had to forfeit its 31 wins. It also lost Simmons. Juco was no longer an option, and there was no going back to Division II or III, so the NAIA was the next best (and last) route. Dave Bliss was in his second season at Southwest Christian University, a private college of 800 students near Oklahoma City that had previously been a Bible school. It was likely the only institution that would hire Bliss, forever tainted for his tenure at Baylor during which he not only paid players, but framed one murdered player as a drug dealer.
"I lost my focus there for a while," Bliss told me. "I want to get back to helping young people, which is what I originally set out to do. Coaching in Division I is a tough thing—anytime you increase the rewards, there tends to be excitement, and what I have been through allows me to help appreciate my role than consider what is in it for me anymore."
For the NAIA, Simmons's draft declaration wasn't an issue—he had two semesters of eligibility left, and Simmons enrolled as a junior prior to the 2016-17 season. The goal was simple: sit the first semesters of back-to-back seasons, and only suit up when SCU entered conference play.
"It was a breath of fresh air for Josh," says Bliss. "He had kind of been bandied about at several schools, and he was relieved to find some place that he could put his roots down and stay more than six months."
Redshirting the first semester of consecutive seasons certainly isn't common, but off the Division I map, eligibility becomes a much more fluid concept. There is a five-year clock to finish college, but that clock stops the moment a player isn't enrolled in school, which is why Simmons could still ball without impunity. "When we had a chance to recruit him, we knew our season had a better chance of success," says Bliss. "It's not like he can go play at Kentucky, so by coming to Southwestern Christian, we become a school ranked in the top 25."
Simmons was lower-level college ball's equivalent of a talisman: When he is eligible, he takes a team to the next level. "All coaches are trying to find that hidden gem," says Good, "but Josh is different. Not only is he confident in his ability to play and can put the ball in the basket, he is an extremely nice kid."
SCU won 14 games with Simmons in the lineup, beating eight ranked teams and narrowly missing the NAIA's postseason tournament. Bliss expected much of the same for 2017-18, when Simmons' basketball odyssey would finally come to an end. "We're a top NAIA team with Josh," says Bliss.
---
But there would be one more twist to Simmons's saga. Last spring, Showtime aired the documentary Disgraced, which recounted Baylor's spiraling under Bliss's leadership and included Bliss repeating his unproven claims that murdered player Patrick Dennehy had been a drug dealer. ("He was selling drugs. He sold to all the white guys on campus... He was the worst.") A few days after the documentary aired, Bliss was fired from SCU. Simmons had just one more semester to play.
Mike Newell understood something of where Simmons had come from. As head coach since 2015 at Dillard University, a NAIA school based in New Orleans, Newell was himself a basketball mercenary, coaching at several schools across the southeast, and he realized the value of oft-transferred players: "The only journeys that concerned me were whether Josh was a good student and if he was academically eligible. I recruited him at Ranger, so I knew both to be true."
If Dillard was a DI or even DII program, Simmons would have to sit out the entire season, but in the NAIA, Simmons was allowed to practice immediately after transferring and then play in the second semester. "He's better than a spark plug, and should be an integral part of our team," Newell told me.
Once again, Simmons provided the boost his team needed. Since he first took the floor in mid-December, the Bleu Devils have gone 12-3, including a seven-game win streak, and the forward has posted 11 double-doubles, one of which occurred on Senior Night, an accomplishment that seemed like it'd never happen when Simmons mailed his declaration to David Stern five years ago. Wearing a warm-up jersey reading, "Hail Dillard," Simmons was flanked by his mother, a cosmetologist, throughout the school's ceremony.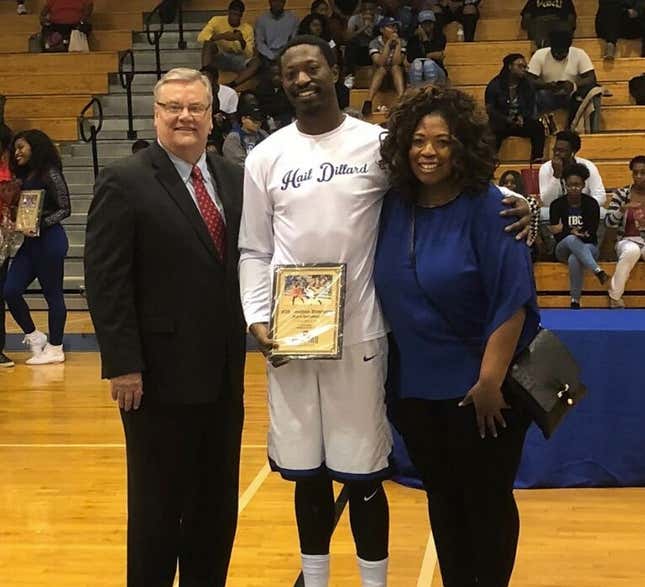 One day this past summer, Good was in his office at Wingate when Simmons surprised him with a visit. It was a brief chat. Good says he expressed regret about how he and the school had failed to provide Simmons with proper support, and Simmons told him that he finally saw the benefits of using basketball to get a degree. The one thing the two didn't discuss? The 2013 NBA draft.

"I didn't want to bring that up," Good says. "I was just thrilled he was going to college somewhere."
Simmons needed to pick up an official copy of his Wingate transcript, something to show for the first stop in his college basketball journey, but before he stepped back out of Good's doorway, the first coach to recruit Simmons asked him about his plans post-college.
"He has his mind made up that he can make it playing basketball," Good recalls. "The NBA, I don't know, but playing overseas is within the realm of possibility.
"He hasn't given in yet."
---
Matt Giles is a writer for Longreads, and he also freelances for several other publications, including the New York Times, New York magazine, the Washington Post, and FiveThirtyEight.