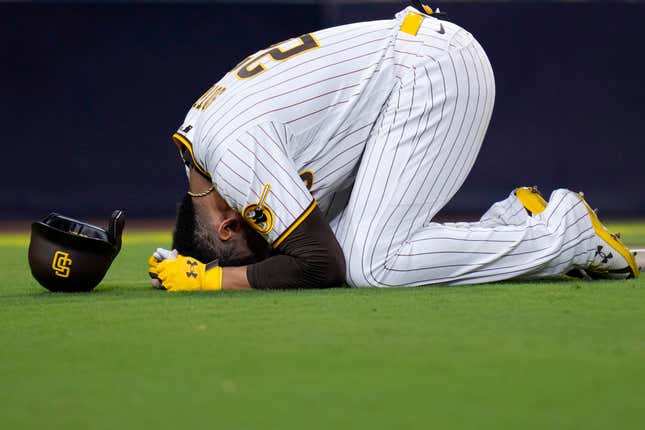 The San Diego Padres are running out of time. They seemed to know it, as Juan Soto blew up at them last week after another dispiriting loss. It's clear that something is amiss below the surface for San Diego, and Soto was doing his best to try and get everyone focused on what really matters, closing the season furiously and putting aside the bullshit.
Should a team trade the farm for Shohei Ohtani? | Agree to Disagree
Unfortunately for the Padres, anyone who tries to lead them is only more exposed:
Stick your neck out and you're only a bigger target for the baseball gods.
No better way really to summarize the 2023 Padres than taking a big swing and taking it straight in the nards. $254 million for eight games under .500 on the 15th of August, going for the downs and only fouling it off your pills. Beauty is truth, truth beauty.
Neymar taking blood money, joining Al-Hilal
One of the big headlines out of the world of soccer yesterday was as close to a homecoming for Neymar as he can get without going back to Brazil. PSG were able to unload one headache to Saudi Arabia, grabbing $98 million for themselves while Neymar is going to pull in a reported $219 million a year.
It's easy to shit on Neymar, because he makes it so. He is, or was, one of the world's best players. That can't really be questioned. When he did leave Barcelona for PSG, it did feel at the time that he was one of the few players on Earth to legitimize the whole PSG thing from a mere curiosity to world power.
But given how his team had to be constructed around him, given that he could only be successful if everything ran through him, and given that he was only somewhat available, his time in PSG was always doomed. For all the money PSG spent to pry Neymar loose from Barcelona, and Neymar's desire to walk his own path apart from Lionel Messi, what did either get? French titles that PSG would have won anyway (except for that one) and that no one outside of France really cares about. Big Champions League matches that he consistently missed through injury. Hardly a signature performance in the tournament he was bought specifically to win. Supposed strife with Kylian Mbappe, and everyone left feeling a little flat.
Neymar still has something left to give, but now he can give it in a place where when he fucks off for his sister's birthday or just because he feels like a break, no one's going to much care. There isn't a Champions League to win. He'll be paid gobs of money to blitz two out of every five matches, walk around for one to two more, and miss the other. And he won't have to hear about his diving or his whining or his team's inability to win the big one, because there isn't a big one in the Saudi league. The team will be built around him, he can pull off all the tricks and feints that really only he is capable of, the crowds will roar, some highlights will hit Twitter, and that's really where he's been meant to be. Exciting, unique, lots of noise, signifying a whole lot of not much for all the money in the world. It couldn't be more Neymar.
Donald Trump under indictment in all NL East cities except Philly
And finally:
This is an upset, though Philly was the site of "Four Seasons." Philadelphia administers its own brand of justice, usually having to do with public shaming.
---
Follow Sam on Twitter @Felsgate and on Bluesky @Felsgate.bsky.social