I went to a skydiving center this past weekend. I jumped and was a complete pussy all the way down (that's me staring wistfully back at the plane). The full story will be in Penthouse magazine sometime this summer. I never knew how much skydiving cost, so I asked the lady the normal fee for jumping out of an airplane. I figured it was like $500 or something. But it was just $200 to do a tandem jump at this place (jumping with an instructor attached to you). That's all.
So I would like to make this public service announcement to all future bachelor party planners out there. $200 is, in my experience, precisely what it costs each attendee of your bachelor party to hire two Vegas hookers (one of whom will ALWAYS have random bruises on her body that will haunt you) to come to your hotel and Smoot each other in front of you. I'm on record saying this shit is not worth the money. At all. And you'll always end up having to shell out God knows how much more in tips and lousy handjobs if you want one.
Alternately, you can use that $200 instead to all go skydiving. I strongly suggest you go for this option instead. You can all go jumping. You can all taunt each other beforehand for being complete pussies who won't jump. You can talk the groom into it against the bride's wishes. You can all jump together and then spend the rest of the bachelor party weekend talking about the jump and laughing your fucking asses off. It's not even close. When it comes to value for your $200, skydiving beats tits every time. Keep it in mind the next time your BESTEST BRAH FOREVAH BRAH decides to get hitched.
Now, before we get into the funbag, I have some bad news and some good news. The bad news: Starting Thursday, and lasting for about a month, the funbag columns will be somewhat shorter. This is so I can finish up book #2, sell it, and become a multihundredaire. After that, everything goes back to normal. But this way, I can finish the book and not completely disappear. Now, the good news: Next week there will be a special BONUS audio version of the funbag conducted by myself and Mr. Adam Carolla. We recorded it last night, and much merriment ensued. So look out for that. Now, your letters:
SJSL:
I sit in on a lot of company meetings attended by anywhere from 6 to 10 people. Often there's someone walking around while speaking. Every time I contemplate what would happen if I punched the speaker square in the balls as they strolled past me. I then spend the remainder of the meeting A) trying to decide what each meeting-attendee's reaction would be, B) imagining the sound that the punchee would make C) laughing in my head and D) hoping that no one asks me a question. B certainly provides the most comedy.
G/O Media may get a commission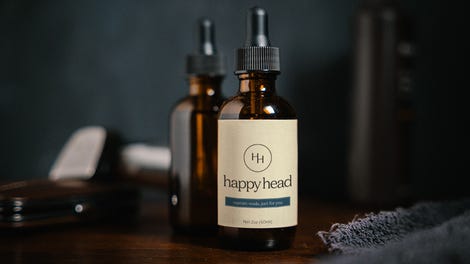 Meetings are horrible like that. They're so fucking boring that you just sit there and spend all your time contemplating doing terrible things in the middle of it, just to spice things up. I've been in meetings and reached the point where I've had to physically restrain myself from jumping up and shouting BALLS!, because my brain has spent the past 60 minutes goading me into it. "Come on, Drew. Do it. Say BALLS. You know you want to. BALLSBALLSBALLSBALLS." Or someone will be speaking and I'll have to suppress the urge to jump up and say something completely inappropriate about that person. YOU ARE FAT! FATTTTTTTTT!!! The longer the meeting goes, the worse that urge gets. I so badly want to take my dick out and wipe it on the greaseboard. HERE'S YOUR FUCKING IDEATION.
And every meeting has, without fail, at least one fucker in there who could care less if the meeting goes on for nine years. They'll just keep talking with the client because they like to be "active" in the meeting. They ask questions. They put off the real beginning of the meeting to make small talk with everyone. People like this need to be fucking shot. The goal of any meeting should be to end the meeting as quickly as humanly possible. No sane person wants to be in that fucking room. Ever. I hate meetings.
One last thing: Fuck you to any meeting that does not have food. You want us to gather in a room? There goddamn better be sandwiches, chips, a big bowl of pasta salad no one touches, and a cookie and brownie platter. I don't give a shit if it's 3:45PM. FOOD IS REQUIRED.
John G:
Now that Easter has been over for a week, drug stores and supermarkets are laden with extra Easter candy they're trying to sell at half off. With one glaring exception—NOBODY is selling Cadbury's Eggs at a reduced rate, or at any rate. I see only three explanations for this:

(1) Cadbury's knows exactly how many creme eggs to make and sell and nails it every year. That's impossible.

(2) All stores return all extra eggs to Cadbury's on Easter Sunday, which they either melt down or re-sell next year.

(3) All the store employees and owners take all the leftover Eggs on Good Friday for themselves because they're so damn good.

Has to be #3, right?
No. It's #1. Cadbury DOES know precisely how many eggs it will probably sell every year. Sales and distribution teams exist for this very reason. A company like Cadbury, which has been making Crème Eggs for fucking ever, probably has a very good idea of who will buy that shit, and where they will buy it. When it comes to Crème Eggs, nothing is left to chance.
Of course, you CAN buy crème eggs all year round. They're available at Amazon and elsewhere right now, as we speak. But you'll never go through with it. And you know why? Because buying candy online is something may adults simply cannot bring themselves to do. Candy is an impulse purchase. You see it. You want it. You buy it. You can explain it away to yourself by saying it was a moment of weakness. A small indulgence. Buying that shit online is far more premeditated. It makes you feel 900 times fatter when you do it. And then you have to wait for the candy to be shipped to you. I can't imagine how agonizing that wait is. IS THAT THE CANDY? WHERE'S THE FUCKING CANDY?
Dan:
What's with guys who brush their teeth in the office bathroom? I get WHY they are doing it but I can't think of a locale which negates all of their reasons more. The corporate bathroom is a gross place, and they are only contributing to the communal grossness by spitting their used toothpaste into a sink which someone else has to use. On top of all of that, there is someone like 10 feet from the tooth-brusher dropping a deuce and making the place smell god awful. Also, where are they keeping their brushing supplies? In their desk? Everyone knows that desks are gross places too. Just pop some gum or a Listerine strip like a normal person and save your brushing for nights and mornings at home like a normal human being.
I also dislike those people because those are the people who brush after lunch and thus make me feel negligent for not brushing after every meal. Fucking overachiever. I brush twice a day and that's just PLENTY. I floss every night, and I hate flossing even more than I hate mayonnaise. I maintain perfectly good oral hygiene. But Mr. Fucking Goodygoody right here has to brush after every meal. Oh, aren't you so awesome! Dick. There are people who FLOSS after every meal too, and those people can go right to hell.
Geoff:
Saw this driving the other day. It was a company called Precision Drilling. This has to be one of the best company slogans ever. I might hire them just to get one of those signs in my front yard.
Agreed. It's A+ work.
Grant:
Do you ever get freaked out when you are leaving a store (Best Buy, Target, Kohl's, whatever) and cross the threshold of those shop-lifting deterrent/anti-theft towers even though you know you either paid for your merchandise or purchased nothing at all?

Do you ever get nervous when you go to live sporting events or concerts and present your ticket to be scanned at the door? I always imagine that the ticket won't scan or I bought counterfeits and I'm holding up the line while dumbfounded and trying to still get in the place.
I do get nervous with concerts tickets because I did once see someone try and walk into a show and get rejected because the bouncer told them the ticket was fake. And it didn't look like the concertgoer was pretending to not know. I think he genuinely thought his ticket was real, and a scalper conned him. What an awful moment. There's nothing worse than going into some concert or airplane flight only to be denied entrance. You feel like such a dipshit.
As for the anti-theft towers, they do make me somewhat nervous. I've walked out of stores before and set off the alarm because the clerk didn't take the anti-theft tag on it. And that's terrifying. I always assume fifty SWAT team members will throw me to the ground and rape me with a baton. BUT I'M NO THIEF! I HAVE A RECEIPT! I SWEAR! I've also walked out of the store the same time as someone else, and heard the alarm go off. OMG! The alarm went off! Well, it wasn't me! Surely, you can see I'm no derelict! It was Miss Puerto Rico over there!
But I find it odd that no one ever reacts when the things are set off. It's like a car alarm at this point. No one seems to give a shit when the towers ring out. One time, I walked out of the store an the towers went off. So I froze and stood there, waiting awkwardly for a store official to come see me so I could explain my case. Only no one did anything, so I just stood there with my dick in my hand while every other customer stared at me. Then I just left. I really would have liked to explain myself to the manager, so all the customers knew I wasn't trying to lift those Old Navy crew necks. People will judge you for shit like that.
Tom in Harlem:
One of my roommates apparently got into my toiletries bag, used my nail clippers, broke them, and then put them back in place, because they're fucking retarded. What bathroom toiletries are and aren't ok to share with close friends or spouses? Are there things in there that should be considered for public use, unless explicitly stated? Or should you pretty much ask permission to borrow anything?
Never ask permission to borrow toiletries. Always announce it after the fact. "Yo, I used your toothpaste. Hope you don't mind." That's the proper way of handling it. I think pretty much anything that isn't a toothbrush can be borrowed. Gold Bond is fine. Contact lens solution is fine. Advil is fine. Floss is fine. Hairbrushes and combs are fine (at least, by me). I guess deodorant would be weird, but you can always do that run-your-finger-along-the-top move after you use it, to supposedly wipe off the layer of strange pit. But toothbrushes are off limits, for obvious reasons. As are prescription medications.
All of this depends on if the person Dopp's kit it unpacked or not. Like, if that shit is already unpacked and everything is out on the counter, I say it's communal property. But if you have to go rooting around the other guy's bag, I could see that being a problem. What if he's got shit in there he doesn't want you to see? Like his meds for herpes? If the Dopp kit is packed and closed, it changes the whole game.
HALFTIME!
Louis:
An extension to the peeing at an urinal, if someone actually does attack you, do you stop pissing or will there be piss streams going everywhere while you roundhouse kick that attacker?
The latter. I have piss streams going everywhere after I leave a urinal even if no one is attacking me. Why should an assault change anything?
John:
Am I the only one that enjoys picking shit up off the floor using my feet? I throw a little party in my head every time I execute this move successfully.
I like it as well, because it makes me feel like a monkey. And I've always wanted to be a monkey. MONKEY MONKEY MONKEY! Also, I have a bad back, so I always make it a point to pick things up with my feet, so I don't have to bend over.
I give myself bonus points if I do it with a sock on. Socks make picking up that spoon a bit more technically challenging. Sometimes, I'll grab something with my foot, kick the object into the air, and then CATCH the object with my hand. FUCKING SWEET. I bow in all four directions after I pull that off.
My wife is not amused by my propensity for doing this. She always bends down. Sucker. I'll go to get something with my foot, then she'll bend down at the same time and say I GOT IT and then pick it up and give me a disapproving look. "You're so lazy." I'm not lazy! I'M SMART! AND DEXTEROUS! CAN'T YOU SEE THAT?
Jason:
When you take out your imaginary knife (to fight the imaginary terrorists), do you hold it blade up, or blade down? Me, I pull it out blade down and slowly rotate it to up, into attack position.
I hold it in Psycho position. Blade down, held high over my head, ready to come down. You get maximum stabbing force this way. I cannot pick up any knife with first gripping it tightly and making miniature Norman Bates stabs with it. One day, a burglar will break into this house, and that is when he will get a fucking face full of Westhoefer.
Alternate position: I hold it out and sideways, with the blade facing out. That's how Casey Ryback did it, and I see no need to improve upon perfection. That's prime knife-fight position. Plus, holding any object sideways makes me feel gangsta.
Evan:
Don't know what's more impressive/bewildering: the forethought to request an ETALLIC license plate from the DMV, or that this is on a Volvo.
That is the awesomest thing ever.
Remy:
I'm at a Broadway musical right now. Is it bad that all I keep doing is trying to look up the girls skirts for cooch shots and cameltoes?
Hell, no. You paid, what, 80 fucking dollars to see that show? You are entitled to ogle all the crazy lifer actress moose knuckle you can. Their groins are so lean! You almost want to throw their legs on a grill.
I went a Broadway show once with actual nudity, and it is a weird experience. The show was Frankie and Johnny, and it starred Edie Falco and Stanley Tucci. The curtain went up, and Edie and Stanley were in a bed going at it for, like, five minutes. You could see everything. Tucci had a boner. No lie. (And yes, I looked at his cock. It was right fucking there.) And Falco walked around the stage for most of the first act with virtually nothing on. My parents took me to this play. You never want to be stuck in a theater with your folks, staring at Stanley Tucci's dick. It's just unpleasant. Good play, though.
It came out later in the news that Falco and Tucci had a real-life affair, so all of us are now convinced Falco and Tucci were really banging in the bed right as the curtain went up. SCANDALOUS.
Malcolm:
I have this fantasy where I'm invited to Buckingham Palace. Maybe I wrote the next great bodice-ripping Victorian novel or some shit. And I'm due to meet the Queen. And Jeeves or whoever tells me all the decorum. And then with that "Proud to be an American" song running through my head, I throw decorum out the fucking window. I'm not bowing to no one. And I even ask her to her face why is she so special just for being born. Fuck the Queen of England. Fuck royalty in general. USA USA USA
Someone's been watching an awful lot of King Ralph.
I imagine people feel this way about meeting the President all the time. I've done that thing where I picture meeting the President in a crowd and letting the fucker know exactly what I think. Bush, Clinton, Obama, whoever. I fantasize going up to them and saying to them YOU FUCK. YOU ARE FUCKING CORRUPT AND SHITTY AND I HOPE YOU EAT SHIT. Or, better yet, I imagine being the opposition candidate in the next election, and I am Bulworth to the fucking core. I throw out the entire political gamebook. I say things that SHOCK the press. I go into the debates and RUIN THE OTHER GUY'S SHIT. I am meticulously prepared on all issues and I make everyone look like a fucking idiot. Then I topple the President and am the fucking big cheese. This is an unlikely occurrence.
Anyway, I'd never do this in real life. I saw Frost/Nixon, which is a boring, shitty movie designed to educate tardsauces who never made it past third grade. And there's this scene where Sam Rockwell is about to meet Nixon and can't wait to tell him what a fuckhead he is. Then Nixon walks in and Rockwell meekly shakes his hand. That's precisely what I would do. Which is good, because I'd make an ass of myself if I tried anything else. The only guy who mouthed off to a President or Vice President and did it awesomely was the dude who walked by Cheney after Katrina and told him to go fuck himself on camera. That was the shit.
Dan:
As a lousy golfer, after I hit a rare great shot from the fairway onto the green and start walking (towards the green or to a cart that is positioned toward the green), I always image that I'm leading comfortably on the 18th hole at the final round of the US Open. I'll get goosebumps as I imagine the gallery giving me a long roaring ovation and will even feel the urge to take off my hat and acknowledge the "crowd," though I never do so to save myself from looking like an idiot. I will still make the walk hatless (as many golfers seem to do as they approach the 18th green at Majors). For me, golf is the only sport I play as an adult where I still have these fantasies of being a pro.
Yeah, the whole Carl Spackler mentality goes immediately into effect any time I hit a golf course. I also like those tourneys where the gallery is allowed to flood the fairway behind the golfer and walk with him up the 18th green as he's about to win. I pretty much picture that on every hole, even if my shot was a piece of shit (and it was). Also, if I hit into any hairy situation, I steadfastly REFUSE to lay up. Ever. Why do that? It's civilian golf. It's not like I can fall far down the money list by going for the pin. I always picture getting off an impossbile shot from behind a fucking oak tree that draws perfectly onto the green. Then I line up to take my real shot and it goes five inches. Golf blows.
By the way, I know the whole Phil Mickelson story is really nice, and I hope his wife and mom get better. But every year, the fucking Masters gets more insufferable. It's like watching a Hallmark Hall of Fame movie. They treat the place like it's fucking enchanted. Like a group of magic pixies open a golden portal to it but once a year. What a load of dogshit. It's a fucking golf course for rich white pricks. And it's located in some shithole strip mall town. Everyone bitches about the gloppy soft focus treatment of the Olympics. No one does the same with the Masters. They've gone way overboard, and I'm sick of it. Fuck the Masters, fuck CBS, fuck Jim Nantz, fuck Georgia, fuck all those pretty flowers, and fuck that asshole Billy Payne. I hope Tiger wins it next year, says FUCK audibly on every swing, and forces a hooker to blow him on 18.
Cory:
I'm married and I'm not the type to complain about my wife. She's probably the greatest wife ever. However one thing that never ceases to be annoying is when I decide to have a 3rd or 4th beer on a random Tues/Wed and she says, "You're having ANOTHER beer?" She always makes me feel like an alcoholic.
It gets worse. Because then you end up hiding your beer to prevent the glare, and then she reads some ARE YOU AN ALKIE? survey in Cosmo, and DO YOU HIDE ALCOHOL FROM LOVED ONES? is one of the questions, and now you ARE an alkie because you hide your booze. BUT YOU AREN'T! YOU WERE HIDING IT BECAUSE OF HER! SHE'S THE PROBLEM, DAMMIT!
Finally today, a GREAT MOMENT IN DMV LYING.
Earl:
Had a seriously thrilling moment at the DMV this morning. I'm talking adrenaline-level lying to someone's face. I was getting my California car registered in Nevada. The CA registration had expired months before, and I'd delayed getting NV plates because I'm lazy. The guy at the counter told me I was going to be charged late fees for the CA registration expiring because I had been driving it all this time with expired tags. "But I haven't been driving it."

"You haven't driven the car once since the registration expired?"

"No sir, I brought it into the state on a trailer." LIE

"You'll have to fill out this form saying it wasn't operated and sign and date it. This could be used IN COURT."

"Yeah, sure." SIGNS. LIES.

"I see you got the VIN inspected here on Saturday. It's not noted it was on a trailer so.."

"I hauled it here and unloaded it in the parking lot before pulling up to the inspection station." LIE

"Well, you got it smogged on this date."

"Trailered." LIE

"You towed the car on a trailer to get it smogged?"

"Correct." LIE

"Where is the vehicle now?"

"Back at my apartment." LIE (It was in the DMV parking lot, I had driven it there)

At this point he just sat there staring at me for a bit. I stared right back. Was there a drop of sweat upon my brow? Hell no, I've got fucking ICE WATER IN MY VEINS. He knew I was lying. I knew he knew. I also knew that he knew that he didn't have any proof.

So he stamped it, gave me my registration and I probably avoided a couple hundred bucks in late fees.

I AM THE KING.
God, this story just makes me want to go to the DMV and lie right now. Give this man a bag of whisky.