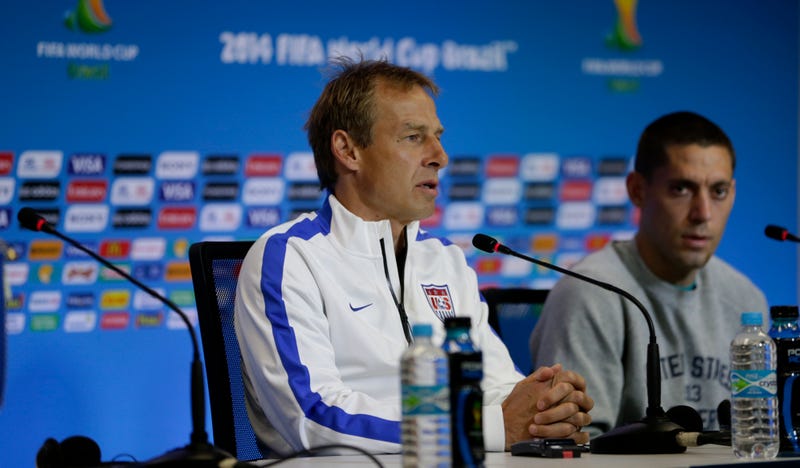 The match kicks off in seven hours. The gamesmanship has already begun, with Jürgen Klinsmann publicly casting a side-eye toward FIFA's choice of an Algerian referee for today's USA-Belgium clash.
Speaking at yesterday's press conference, Klinsmann had the most passive-aggressive of praise for Djamel Haimoudi.
"We hope it's not a concern. We know that he did already two games so far and he did them very well. We wish that he continues his refereeing the perfect way he's done so far."
And then, to the potential issues:
"Is it a good feeling? No, because he's coming from the same group as Belgium and Algeria — which deserves a huge compliment for going through to the next round. He's able to speak French with their players on the field, not with us. And it's the country that we beat in the last second in the last World Cup. So sometimes I don't understand FIFA. It's difficult obviously to choose the right referees for the right games and it's always been kind of tricky for FIFA, but it is what it is."
Yes, the U.S. beat Algeria in the group stage four years ago. (Wasn't that wonderful? Let's relive that.) But as big a moment as that was for us, it's not particularly memorable for the Algerians—even without Landon Donovan's stoppage time winner, a draw would have put Algeria last in the group. If Haimoudi were some grudge-holding fanboy, he'd likely be more upset with Belgium, who beat Algeria two weeks ago.
Haimoudi's selection is "awkward," said USSF president and FIFA exco member Sunil Gulati, but what is FIFA supposed to do? With most of the listed referees hailing from soccer nations, it's near impossible to make assignments without invoking some historical result. It's also insulting to assume that Haimoudi can't simply be a professional because of his nationality. C'mon, Klinsy; be better than Mexico, who at least waited for iffy calls before complaining about a Portuguese ref.
The language thing has more heft. The lingua franca of international soccer is English, but Algeria's colonial past means that most Belgian players, and coach Marc Wilmots, can communicate with Haimoudi beyond the ken of Americans. (There are many multilingual players on the USMNT, but no Francophones—with the possible exception of Alejandro Bedoya, who played in Ligue 1 this past season.) But, whatever. Speaking English as a first language gives the Americans that nebulous communications edge in every other match ever, so this is a non-issue. "A referee is not there to talk," Wilmots said, "but to referee."
So—what do we actually know about Djamel Haimoudi? The 13-year vet has refereed two Africa Cup of Nations, an U20 World Cup, a Confed Cup, a Club World Cup, three World Cup qualifying matches, and was named the 2012 CAF referee of the year.
In two World Cup matches so far this tournament, Haimoudi has gained a reputation as a disciplinarian, quick with the whistle but reluctant to give cards. Players tend to like this—he keeps things under control, and nips bad situations in the bud before they get ugly. (In an extremely chippy Netherlands-Australia match, Haimoudi called a tournament-high 43 fouls yet handed out just two yellows.)
Klinsmann's game here is obvious: to let everyone know (especially Haimoudi himself) that the ref is going to be receiving extra scrutiny, so he needs to be extra-sure before making any close calls. Is that fair? All's fair in soccer, and Klinsmann is a devoted believer that half the war is psychological. Belgium is the better team, so there's no harm done in making the ref hypervigilant of making calls in their favor.