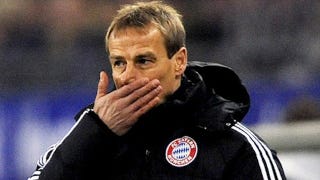 With friendlies against France and Slovenia looming, the U.S. men's soccer team will start getting blooded against stronger competition. Jurgen Klinsmann continues to tinker with lineups and test out new players, so we can't fault him too much for the 1-1-3 record he's compiled to date. But don't think losing isn't on the mind of America's newest soccer Jesus. Here he is talking about training camp. He sounds like a New York politician discussing his twitter account. This is, I feel, the most useless quote I've seen in the last year:
It's going to be busy. The fight will continue for starting spots, and it's important to see how the players perform in every training session. We will continue with high intensity training and the players will get a more precise picture of how I want to see things done on the field, our tactical approach and the speed of the game we want to play. We will train the same way we will play in games, with high intensity and awareness. With every camp, they know exactly what to expect.
Do they? Does anyone?