I should admit up front that the following beef between Liverpool manager Jürgen Klopp and his coaching counterparts on Sevilla's bench doesn't make total sense, but the strange, match-long affair does involve Sevilla's manager twice playing keepaway with a Liverpool player, him getting sent off for doing so, and a bewildered Klopp asking Sevilla's coaches "Are you all crazy?" by the end, so it's worth telling you about anyway.
Okay, so Liverpool hosted Sevilla in a big Champions League match today. The game ended in a 2-2 draw, but that's not really the most interesting part. The best part of the match came after the final whistle, when a very confused Klopp greeted the Sevilla coaches who had just walked up to him to shake his hand with a battery of incredulous questions about their earlier behavior:
It's not immediately clear what Klopp is referring to. Context clues help, though. At one point in his questioning of the Sevilla coaches—and make sure to take note how delightfully uncomprehending the array of Spanish-speaking coaches are, as they offer Klopp their hands and stare blankly into his eyes, seemingly completely unaware of what he is saying to them—Klopp says "I didn't send him off, really."
Send who off? If you'll note in the above video, Sevilla manager Eduardo Berizzo is not one of the men who approached Klopp when all of this went down. That's because earlier in the game he'd gotten himself sent to the stands by the referee, after the second of this two dumb and hilarious attempt to stall the game.
G/O Media may get a commission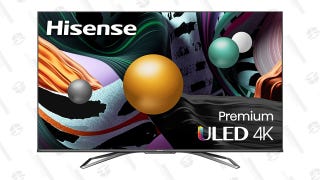 Save $350
Hisense ULED 65" Android 4K HDR Smart TV
Here is the first incident, in which Berizzo grabs a ball that had just gone out for a Liverpool throw-in and tosses it away from Joe Gomez right when the defender tries to take it from the manager's hands:
This little stunt earned Berizzo a talking to from the ref. Undeterred, Berizzo followed up that move with an almost identical one about 12 minutes later:
After Berizzo tosses the ball, you can see Klopp walk over from his touchline area and yell at Berizzo for the offense. The ref's response to Berizzo's behavior was to order the manager to leave the pitch. Berizzo appears to protest his innocence for a minute both to the ref and to Klopp, but eventually accepts his fate. He walks over toward Klopp with his hand outstretched as if to ask for a handshake, is cut off by the ref before he can get there, and eventually heads down the tunnel.
Klopp's confusion in the first video clearly stems from something to do with Berizzo's sending off, but the mystery is what specific part. If I had to guess, I'd suppose that Berizzo or members of his coaching staff shouted in Klopp's direction once Berizzo had gotten sent off, possibly in frustration over Klopp's (seemingly negligible) involvement in the referee's decision-making process. Lest you worry this would be neatly resolved, here's what Berizzo reportedly had to say after the game:
For one, the first incident didn't take place in the first half. For two, both incidents happened on Liverpool throw-ins while they were leading. Thus his explanation is factually incorrect and still wouldn't make any sense even if it were true.
Klopp was quick to downplay things after the match. He told the press that there was "100 percent no problem" between himself and Sevilla's coaches, and that Berizzo even invited him into the Sevilla locker room afterwards to explain the actions that resulted in his red card. So Klopp and Berizzo are cool, we got to see some weird and fun videos of one meddlesome coach and another puzzled one, and everyone goes home happy. All's well that ends well.