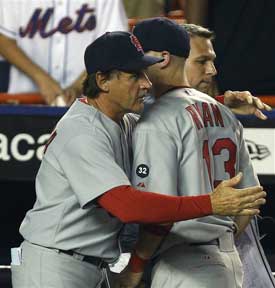 In the last eight years, we've seen way too many baseball games. We've seen a World Series winner (woo!), we've seen a freaking typhoon and we've seen Joe McEwing hit home runs for two different teams. (He's still in the Red Sox minor league system, by the way.)
Last night's Cardinals 11-inning win over the Mets was not one of the most memorable ones, but it was a happy night for an impish sort named Brendan Ryan, a rookie who had three hits and the game-winning homer even though he looks about as old as our little cousins back in Mattoon. We are always impressed by Shea Stadium's fans when we show up in our Ankiel jersey for Cards games; we've never been hit with anything, or booed, or even showered with a "Hey, Ankiel ... you SUCK!" Contrast this with Yankee Stadium, where a group of Cardinals fans were greeted with a chant of "DAR-RYL KILE! DAR-RYL KILE!" Charming.
We'll be going again tonight. We eagerly await the comedic stylings of No. 6 hitter Aaron Miles.
Birds Soar On Ryan's First Major League Homer [St. Louis Post-Dispatch]
Baseball Scorecard [Deadspin]