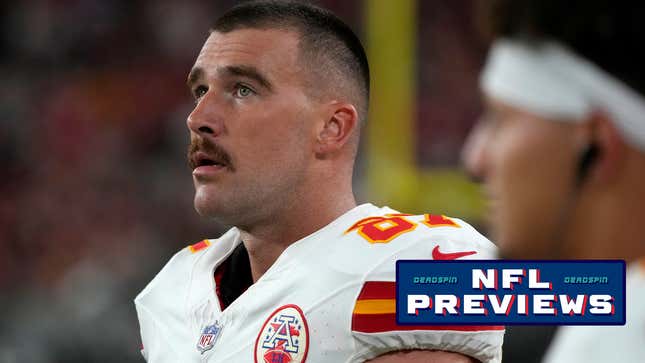 The sports-driven corner of the internet nearly descended into armageddon on Tuesday when it was revealed that Kansas City Chiefs' tight end Travis Kelce hyperextended his knee during practice. His long-term status came into the forefront and every fantasy owner that picked him in the first round of their drafts shouted "Nooooooooo!!!!" louder than Luke Skywalker did after finding out Darth Vader was his father in The Empire Strikes Back. I would know since that was my reaction as I took him sixth and eighth overall respectively in both of my drafts on Monday night, and I thought I was so clever. Kelce is out for tonight's NFL season opener against the Lions, but one thing that hasn't subsided since Tuesday is the Chiefs' Super Bowl odds.
Are Tua and Tyreek the best duo in the NFL? | Agree to Disagree
Caesars Sportsbook has Kansas City still at 6-1 odds, or +600, to win the Super Bowl this year, besting the second-favorite Eagles, who are at +750. FanDuel's Sportsbook has the Chiefs with the same odds. As the defending Super Bowl champions, it's completely understandable why Kansas City is in the favorite-betting position for the fourth time in the last five seasons, with only the Bills a year ago disrupting that streak. The lack of movement after Kelce's injury is a little surprising. The lack of a domino effect shows either the internet doesn't dictate Vegas odds or that no one actually believed the original hype around the severity of Kelce's injury.

With Kelce out tonight, and against one of the trendy picks of this season, the Detroit Lions — who are tied for the ninth-best odds to win the Super Bowl at 21-1 — alongside the Miami Dolphins and Los Angeles Chargers, a Kelce-less Chiefs team will have their hands full. A loss at home to the Lions would tank those odds, but not as much as Kelce being out long-term would. After Kelce's injury however, DraftKings' sportsbook changed the line on tonight's game from Kansas City being favored by 6.5 points, to the current odds of 4.5. Kelce accounts for only two points? Without a single down being played this season, that's a lot. If the armageddon of Kelce's injury proved to be premature on Tuesday, a loss with him playing to the Lions would bring all that momentum to a halt. A win for the Chiefs, with or without Kelce, and it's the status quo for the most consistent NFL team of the last half-decade.