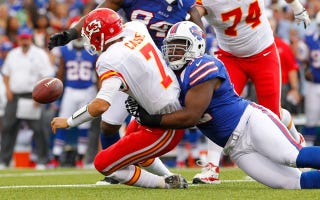 The Chiefs have had a rough start to the season, and an 18-point loss to the Bills on Sunday sent local KC radio host "Bulldog" Bob Fescoe into a rage Monday morning.
Here's a snippet of Fescoe's rant:
Stop embarrassing yourselves! You're embarrassing your mother. You're embarrassing your father. You're embarrassing the city. You're embarrassing your wife and your children. ... You're an embarrassing trainwreck to the 2.5 million people that call this metro area home. You've let down all the old ladies that are on life support, rooting for you, trying to pull out another day. You give people nothing to live for. You suck.
And that's when it gets good.
Yeah, it's Angry Sports Radio Guy doing his typical shtick, but it's not like the Chiefs haven't been completely awful through two games. A few more losses like the one to Buffalo and maybe they won't even be worth the effort of getting upset about.