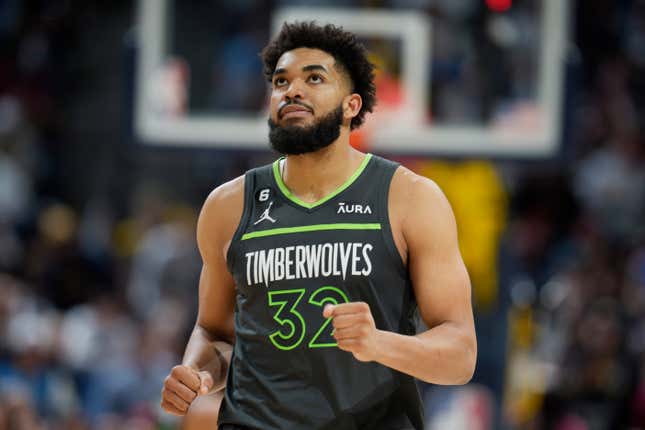 Basketball has changed a ton over the past 25 years. It's gone from NBA teams looking for the next great big man to change the game and dominate inside to finding the next mega star wing player or guard to get them over the hump. Back in the day, people drooled over the idea of a "twin towers" duo that would run roughshod over the league. The association's last championship-winning twin tour tandem was David Robinson and Tim Duncan of the San Antonio Spurs. Now, nearly 25 years later, we have the Minnesota Timberwolves in throwback mode with their twin tours plus one, with Karl-Anthony Towns, Rudy Gobert, and Naz Reid.
Is 60 > 71? Debating Luka Dončić and Donovan Mitchell's record breaking games
If you can't quite place the voice asking Towns the question in the above clip, it was Malika Andrews of ESPN. She asks KAT how he feels about those who say playing three bigs in today's NBA can't work. His nonchalant "watch us" response almost feels like a guarantee of what's to come in 2023-24 from the T-Wolves.
It would seem that Towns is still operating under the notion that he's still "the man" in Minnesota. KAT may have missed the press release, but that's Anthony Edwards' team. It has been for at least a year now. He may operate in a certain way out of respect, but Towns has had eight years to prove himself a leader in Minnesota with very little success.
Towns himself has been a good player, sometimes even bordering on great, but he's failed to lift his team to the next level. During the season, rumors were floating around that he could be traded, but nothing has materialized. Towns still feels like he's the guy in Minneapolis, although he doesn't have that dog in him that Edwards possesses.
Where this three-big-man lineup is concerned, those who doubt it far outweigh the sector that believes it'll work. The NBA hasn't revolved around bigs in well over a decade. We're quickly approaching two decades since dominant big men ruled the league. It's all about spacing and jacking up threes now, no matter the situation.
The Timberwolves and, more notably, KAT will have a target on their back in the Target Center as we approach the '23-23 campaign. Minnesota has yet to advance past the first round of the playoffs during the KAT era and just accomplished back-to-back postseason appearances for the first time in almost 20 years.
Sometimes you just need to ball out, advance deep into the playoffs then start running your mouth. All-NBA and All-Star selections are nice, but ultimately the all-time greats are ranked heavily by the number of rings and overall postseason success. It may not be fair, but neither is life. It's remarkable how delusional this generation can be with some of the comments that leave their lips.
Towns is not the first big to shoot threes at a high clip. Dirk Nowitzki is the one who really introduced that to the NBA. Then Kevin Durant, while not classified as "big," although he is realistically 7 feet tall [Editor's note: And you can't teach that], came along and took it to another level. So, all this talk about Town changing the game and Patrick Beverly co-signing it is absurd. Let's change the game and give those fans in Minnesota a deep playoff run, then worry about legacy later.