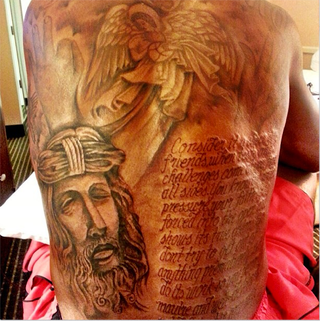 Yesterday, we drew your attention to what looked like a misspelled word in Kevin Durant's massive back tattoo. The photo we shared seemed to offer incontrovertible evidence that someone had tattooed the word "mautre" instead of "mature" on KD's back. But now we have another picture of the tattoo, and man are our minds blown.
Durant must have heard about everyone calling out the apparent misspelling, because he posted this photo to his Instagram account along with the caption "I got mature spelled the right way lol."
What. The. Fuck. What kind of sorcery is this? Seriously, look at this side-by-side photo and tell me that those aren't two different words:
I'm calling a False Flag on this. I'm not really sure what that means, but this is a False Flag tattoo situation if I ever saw one. And I'm pretty sure the Illuminati is involved, too.