In the build-up to UFC 229, Conor McGregor said, among many other wild provocations, that his opponent's father was a "quivering coward." Why? Because the father had not stabbed Chechen strongman Ramzan Kadyrov when the two appeared together at a mosque, and had been "showing fake respect out of fear." Got it. This line of questioning did not simply die out at the end of that day's demented, whiskey-soaked circus.
After he defeated McGregor by submission this weekend, Nurmagomedov referred back to the loser's reckless words. "This is respect sport," he said. "This is not trash-talking sport ... I don't want people talk shit about opponents, talk shit about his father, religion. You cannot talk about religion. You cannot talk about nation. Guys, you cannot talk about this stuff." Nurmagomedov felt so strongly about these principles that after his victory, he leapt out of the cage to smash some of McGregor's shit-talking cronies.
Nurmagomedov left the presser with some sheepish parting words: "I know my father's gonna smash me when I go home because ... I know he's gonna smash me." There was something perversely sweet about hearing this from a human who had just beaten and neck-cranked another human into submission a little earlier in the evening.

As it turns out, Abdulmanap Nurmagomedov, Khabib's father and coach, does sound about ready to smash him, per an interview with Ren TV. Khabib faces a slew of potential repercussions from the Nevada State Athletic Commission as well as the UFC for his post-fight fight, but Abdulmanap—who, in keeping with Dagestani tradition, invited Khabib to wrestle with a chained bear cub three days after his ninth birthday—said his consequences would be stiffer than anyone else's. Here's a translated excerpt:
"I think that for Khabib, the most severe sanctions would be my regard. I am going to regard this severely. I warned him. For me, the most important thing is discipline. You can do whatever you want in the octagon, but beyond its barrier—this is the border separating civilians, there are children, women, bystanders.
"This fight took place within the octagon. That's the spectacle. But I am categorically against fighting outside the octagon. Outside of the octagon, you need to exist peacefully. Fight in the octagon."
G/O Media may get a commission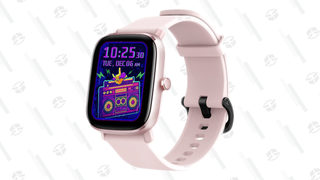 20% Off
Amazfit GTS 2 Mini Smart Watch
Get fit
Has built-in Alexa so you can ask questions and carry your smart assistant around with you; it has a battery that can last up to 14 days, has over 70 different sport modes, is 5ATM waterproof, and tracks stats like your heart rate, calories burned, sleep, and more.
Abdulmanap, despite Dana White's attempts to schmooze with his dear friend, the big wet president, could not attend his son's fight due to visa issues, but summarized the fracas as he saw it from afar, and took responsibility for what went down. "This hit the limit of my nervous shock. After all, I am responsible. This is my team. I am not brushing off my responsibility due to not being let into America."
[Ren TV]