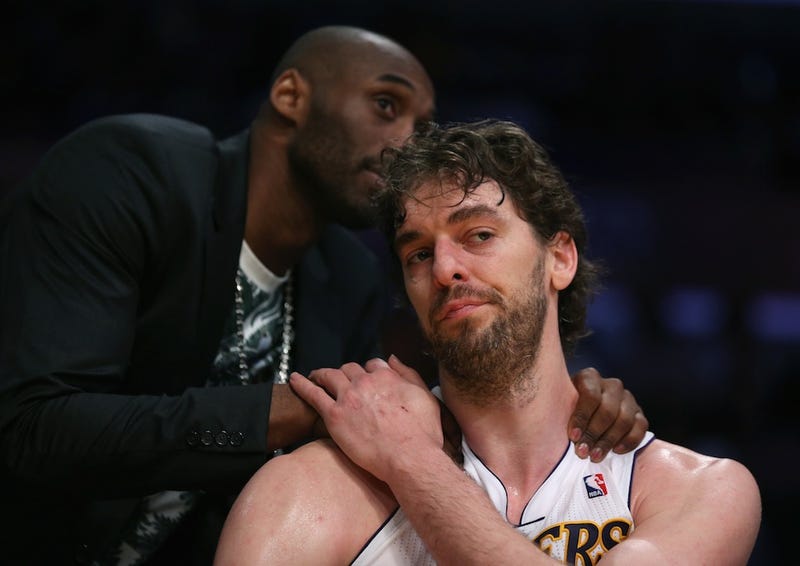 Every kid's dream, right? Minus the whole ugly-lawsuit-over-personal-belongings part, anyway.
You'll recall that back in January of this year Kobe Bryant's mom entered into an agreement with a New Jersey auction house, Goldin Auctions, to auction a bunch of Kobe's stuff. She was paid $450,000 for the lot. When he found out, Kobe sent a cease and desist to Goldin informing the company that his mother was not the rightful owner and therefore Goldin could not auction the goods since they were not his mother's to sell. He was subsequently sued by Goldin for interfering with the planned auction.
But now there's good news: they settled the lawsuit. The terms of the settlement allow for enough items to remain part of the auction that Goldin can recoup it's $450,000 investment and still make a little profit. Kobe's mom gets to keep her money and Kobe gets a written apology from his parents for trying to get rid of his shit. Everyone wins a little.
"We regret our actions and statements related to the Kobe Bryant auction memorabilia," Joe and Pamela Bryant said in the statement provided by a publicist. "We apologize for any misunderstanding and unintended pain we have caused our son and appreciate the financial support he has provided over the years. We also apologize to Goldin Auctions for their inadvertent involvement in this matter and thank them for their assistance."
Hundreds of former Mickey Mantle rookie card owners shook their fists at the sky.
Photo credit: Getty
Settlement reached between Kobe Bryant, parents in auction dispute [SI]