MONTREAL, Canada—The greatest male gymnast of all-time will not win his seventh consecutive world all-around title. He won't even have a chance to try to defend the title.

Midway through the third qualification round at the 2017 world championships in Montreal, Kohei Uchimura, the defending Olympic champion who recently revealed he eats just one meal a day after his workouts, did a vault. It was a very good vault, if awkwardly landed, but so are a lot of vaults. After two gymnasts had taken such bad falls from the high bar that the medical team was sent onto the mat to treat them—one was able to get up and off under his own power, the other was taken off on a stretcher—Uchimura's landing didn't seem too troubling. Until he tried to walk.
Uchimura was limping, clearly in pain. After getting down from the podium, he disappeared behind black curtains, presumably to be assessed and treated by the medical staff.
(Major props to the medical staff in Montreal—they've responded quickly to every single injury, which is not always the case, even at major competitions. This, by the way, is the first time I've written a shout-out to the medical staff at a sporting event, but boy, were they needed last night. Five gymnasts in the third subdivision were unable to complete the competition.)
Uchimura re-emerged a few minutes later, still limping, but he moved across the stadium to his next event, the parallel bars. This is primarily an upper body event but you still have to do a dismount, which requires gymnasts to land with a lot of force. Could his ankle withstand that?
G/O Media may get a commission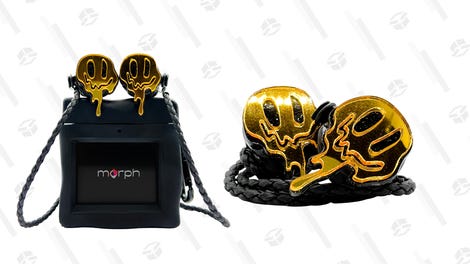 morph audio
Morph Earphones
Uchimura went up on p-bars. His exercise started off tentatively but improved in rhythm and execution as he progressed. Uchimura almost seemed to get aggressive towards the end. Then he paused in a handstand before he swung down for the dismount. I hoped that he would throw an easy dismount.
But Uchimura tossed his usual dismount, a double pike somersault. He landed on his feet but barely, stumbling backwards. Again, he limped off the podium. (His score for that fraught performance was a respectable 14.033)
Uchimura had two more events to go: high bar, another upper body event, and floor exercise, which is all legs. But high bar wasn't without a risk to his lower extremities. Like the parallel bars, it also has a dismount. Which has to be landed. On your feet.
But the landing on high bar is an even bigger problem than the one off of the parallel bars. On high bar, the gymnast does a series of giant swings, tapping down to generate speed and rotation for the multiple flips and twists that come after he releases the rail. There were would be a lot more force on his left ankle when he landed.
Despite knowing this, a small part of me wondered if he would just go up and chuck it. I was horrified by the idea. It wasn't just the dismount that could go really, really badly. If he fell off on any skill and landed poorly, he could worsen that injury or end up with a whole new one by trying to protect that ankle. And of course, even if he had made it through high bar by some sort of divine intervention, he still had floor to go, which would entail running into tumbling passes when he was barely able to limp across the floor. There was no way he could get through a floor routine. The only question left was whether Uchimura would scratch before or after high bar.
I stared at the Longines live scoring on my computer, which showed the scores of the gymnast who just went and also who was up next. Kenzo Shirai had just gone for Japan and Uchimura's name was listed in the "next up" spot. It stayed there for what seemed like several minutes. And then the screen refreshed and Uchimura's name was gone. It was replaced by his teammate, Hidetaka Miyachi, who was initially slated to go up third for the Japanese on that event.
Uchimura had scratched. The streak was over.
In the days leading up to men's qualifications, I vacillated between wanting Uchimura to win his seventh title—because dominance can be enjoyable to watch and I was curious to see just how long this could last—and wanting someone else dethrone the Japanese superstar because it would be fun to find out who that would be. Would it be Oleg Verniaiev, the Ukrainian who came within a tenth of defeating Uchimura last year for the Olympic all-around title? Or would it be Manrique Larduet, who, in 2015 finished second behind Uchimura at the world championships? Larduet, who was injured at the Olympics in Rio, looked fabulous in the first round of qualifications. He's currently the top ranked gymnast in the field with one subdivision left. I thought about how awesome would it be for him to become Cuba's first world champion in gymnastics. And not just any world champion—the all-around champion.

That still might yet happen. But if he wins on Thursday, Larduet won't have dethroned Uchimura, the greatest male gymnast of all-time, to get to the top of the podium. Uchimura's streak has ended, not because he was defeated in head-to-head competition, but because he was finally unlucky. Everyone gets injured in gymnastics. This ankle injury was certainly not Uchimura's first but he has, thus far, managed to avoid the kinds of injuries that take an athlete out for an entire season, which would have forced him to miss a world championships.
Now, after eight years, it's another gymnast's chance to finally get lucky.