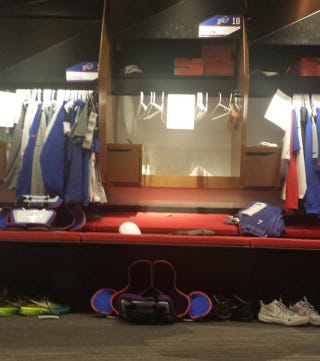 See that locker, there? That's the locker of a great quarterback. That's Kyle Orton's locker.
When Kyle Orton walked away from the game today, he did so abruptly. It was the perfect plan. Sure, the team released a thorough recounting of his many accomplishments, but he pulled one over on everyone in the locker room.
The perfect escape. Where's Orton now? Conquering the great unknown, armed with only his facial hair and his guile. (Or maybe he just drove home.) Hell, some of his teammates didn't even realize he had retired.
Goodbye, Kyle Orton. You were average for the Bills.
Photo via @PrescottRossi