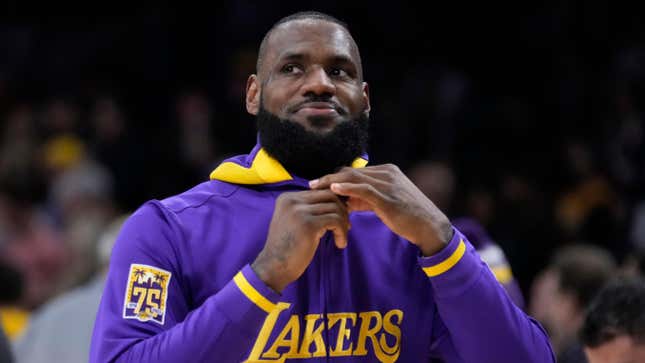 lebronWe'll refrain from the Rex Ryan jokes. LeBron James returned yesterday to the Lakers…for some reason, to aid the Lakers' chase to get dog-walked in the first round, at best. James had been told by two doctors that he should have surgery on his foot, only to find a doctor who would tell him what he wanted to hear. Which seems less getting a second opinion and simply looking for permission, but when you're the best of all time you can do what you want with your body. It sounded a lot like this:

There are probably more similarities between James and Cruise than we'd all like to consider, but we'll leave that to the side for now because it's the start of the week and there are many miles to go before we sleep.
Let's be real: LeBron just wants Kyrie in LA
Still, you know you're in your very own weight class when you can describe someone in a different field than yours as…yourself:
This is reminiscent of Robert Goulet's Vegas show, when Goulet would use the word, "Goulet!" as an adjective and exclamation. As in, "Lots of pretty ladies here tonight. GOULET!" There are probably more similarities between Goulet and James than we'd all like to consider but we'll leave that to the side for now because it's the start of the week and there are many miles to go before we sleep.
It must be a special feeling to think to yourself, "I need the me of sump pumps." You and I do that and we're definitely getting C+ service at best, if not a slew of new problems and possibly financial or physical ruin. Of course, it didn't really work out all that well for The King upon his return, as the Lakers basically got fed by a Bulls team that had to play more than half the game without Nikola Vucevic, who was ejected in the 2nd quarter by some awfully irritable refs.
Old Chuck yells at cloud

Charles Barkley was back to being a tired, old, angry man last night on "60 Minutes."
If Chuck were college-age now, he probably wouldn't mind being able to make some cash, especially as he played in an age when college players almost always had to serve out three or four years in college before getting to the NBA. This reeks of a fogey complaining that kids today don't have to go through what they went through, even if what they went through was exploitative and unfair. If universities are going to treat sports like big business, so should players. Which they are now.
As far as Chuck's complaint that college basketball will soon be dominated by only a handful of schools, I guess we could consult the history of North Carolina, Duke, Kansas and one or two others to see if that's always been the case in college basketball. Also seems a strange claim on a weekend when Miami, San Diego State, and Florida Atlantic are toddling off to the Final Four, not exactly schools known for being basketball powers.
This is where the NCAA basketball tournament acts as something of an equalizer to guard against Barkley's fears, because any team can have a bad day and any team a couple good ones. Seeing as how NCAA basketball's success has always been defined by tournament success, he probably shouldn't worry about the same four teams showing up the first weekend of April every year.
Lighten up, Chuckles. Anger at your age isn't good for the bile ducts.
NWSL is back
It was NWSL opening weekend, and the league averaged 15,000 fans for all six openers, a 50 percent increase on last year's opening slate. But forget all that, who wants to see some bangers?!
That's the No. 1 pick in the NWSL draft Alyssa Thompson denting twine from across the I-10.
Or maybe Trinity Rodman running half the field to then crash home from outside the box against OL Reign is more your speed:
The Reign might want to think about a holding midfielder at some point, but let's just enjoy the run and finish.
The Frozen Four
Finally, over in the NCAA Men's Hockey tournament, top-seed Michigan barely survived Penn State in overtime for the right to go to the Frozen Four. The Wolverines were bailed out in regulation by Adam Fantilli, one of the most prolific freshmen in history, and the dead-on-balls No. 2 pick in the upcoming draft behind Connor Bedard. Watch the second replay on this one and see if you can find whatever hole Fantilli found to tie the game: