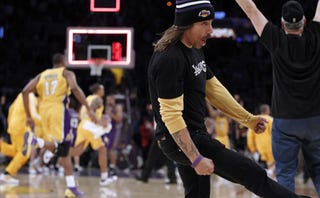 Because no one reads the newspaper, and SportsCenter's anchors are too perky for this early in the morning, Deadspin combs the best of the broadsheets and internets to bring you everything you need to know to start your day.
* Nothing says basketball like a celebratory Anthony Kiedis duck walk. [Photo: AP]
* Ron Artest was Johnny-On-The-Spot for the Los Angeles cagers last night, despite a lack of set shots in the ol' peach basket and no conversions from the charity stripe. Pretty swell, if you ask me. [MSNBC]
* Jeremy Shockey is recovering after having a seizure in the Saints weight room. No joke here; the guy's just lucky he didn't drop a weight on his head. [ESPN]
* The NHL will have two Winter Classics (Winters Classic?) next year: The Capitals will take on the Penguins at the hotbed of hockey history, Heinz Field, and the Canadiens will take on the Flames in Calgary. But those places are even colder than where the Super Bowl will be! [Puck Daddy/Post-Gazette/TSN]
* The Cavs have reportedly inquired about purchasing the coaching services of Mr. Kelvin Sampson. I hope their phone bill is paid up. [Indy Star]
* MLB may fine and/or suspend Joe West for ... well, for being Joe West. At least we'll get a kick-ass country ballad out of it. [Yahoo]
* The Raiders want JaMarcus Russell to pay them $10 million, even though he was the one who got kicked to the curb just weeks ago. That's like breaking up with your girlfriend in a fancy restaurant and then skipping out on the check. Ice cold, man. [San Fran Chronicle]
* * * * *
I gotta say between the fight and Gentry's vomitoriousness and The Porkchop Situation, this was the most productive Deadspin Overnight yet. Next week: I'll show you how to make beer-battered chicken with a side of unbridled rage.