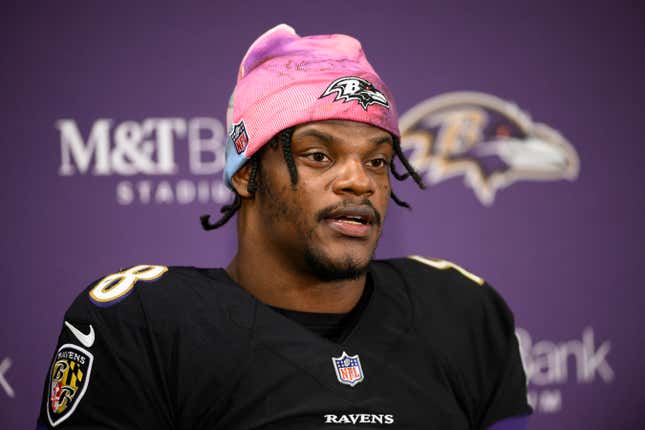 One week into the NFL's free agent signing period, the Baltimore Ravens have received zero offers for Lamar Jackson. The Ravens slapped the non-exclusive franchise tag on the former league MVP, which allows other teams to make him an offer that Baltimore can match. Thus far, all is quiet on the home front, which feels odd.
Worst Darkness Retreats of the Week
With all these teams that need to upgrade the quarterback position, having no one step up yet is simply astonishing. The 'C' word gets thrown around, but the way this has played out so far feels like collusion is in the air. Some will think that's far-fetched, but we already know some NFL owners were not happy when the Cleveland Browns traded for and signed DeShaun Watson to a guaranteed $230 million contract that's fully guaranteed.
In an article by NFLPA Executive Director DeMaurice Smith, released last week, he stated the following about guaranteed contract structure concerning franchised players:
"For example, the fully guaranteed structure for franchised players in the NFL CBA was created precisely because we as a union know that owners have colluded in the past – and might do it again, as they are potentially doing right now— when it comes to highly sought-after players. So for those people out there who chant the power of a mythical NFL "free market" — the market that would supposedly work to secure the highest and best contracts without a draft because all the owners want to win just the same — wake up and look at a market that is supposed to be but isn't, and teams that should be doing everything to win but do not."
It's been reported that Jackson is looking for a massive deal that rivals or exceeds that of Watson's in Cleveland. NFL owners desperately want to avoid this becoming the norm. Had it been almost any other QB in Watson's place, it may not have been as shocking to see that type of money handed over. But this time a year ago, Watson was in the midst of dealing with more than 20 sexual assault/harassment civil lawsuits and hadn't taken a snap since the 2020 campaign. While Watson has always denied any wrongdoing, the Browns jumping out there and offering up everything was not a good look.
Another huge, guaranteed deal for a QB is not what NFL owners want. However, Watson wasn't the first QB to snag a fully guaranteed deal from an NFL team. He may have been the first to break the bank in such a manner, but Kirk Cousins was well ahead of the curve when he signed with Minnesota in 2018 on a three-year, $84 million fully guaranteed contract. That's still a lot of money, but it isn't $200 million plus in guaranteed funds. And speaking of the Vikings, it's been reported by Jeremy Fowler of ESPN that Minnesota could emerge as a dark horse to land Jackson.

It seems like Jackson will settle for nothing less than what he feels he's worth. And since he's representing himself, this contract negotiation could drag on much longer than anyone expected. NFL owners will do whatever it takes to ensure guaranteed contracts worth well over $200 million fully guaranteed aren't given out back-to-back offseasons.
Placing the non-exclusive franchise tag on Jackson was a strategic move by the Ravens. Since they can match any offer, another team would likely need to offer much more than they'd truly want to pay to ensure Baltimore doesn't counter. The whole idea of this non-exclusive tag has collusion seemingly built into the deal. These owners are business partners and will take drastic measures to look out for each other's interests. Look no further than Colin Kaepernick. And the same goes for Daniel Snyder's situation. Most, if not all, owners want him out but don't necessarily want it to be on them to make that decision.
When it comes to player contracts, however, everybody is on the same page. They always have been. QB contracts have already blown up over the past decade, and guaranteeing them entirely at such a steep price tag is not a bridge most owners are willing to cross right now.