With the public wising up to the con of taxpayer-financed stadiums, the group invested in moving the Oakland Raiders to Las Vegas is doing all it can to remove the public from the process. And Roger Goodell and the NFL are loving it.

Ham-faced casino magnate Sheldon Adelson, the largest investor in the proposed Vegas project, has already demanded $750 million—or else—in public subsidies to make the proposed $1.9 billion stadium a reality. Ordinarily, this type of thing would involve a protracted process of open hearings and discussion. But Adelson's group, which is pushing the state legislature for a special session, also seeks to circumvent all that.
By contrast, Adelson/Raiders/Majestic are lobbying with little public-forum discussion. Outside of a monthly morning meeting held by the Southern Nevada Tourism Infrastructure Committee, there's been no gathering for residents. (A Sands-commissioned poll found — surprise — that 60 percent of Nevada voters supported a publicly bankrolled stadium.)
(An independent poll taken earlier this summer found that a majority of Vegas residents were opposed to public financing for a new stadium, at a time when the proposal called for taxpayers to foot a mere $500 million of the tab. So.)
That Southern Nevada Tourism Infrastructure Committee voted unanimously last week to approve the $750 million plan. Which means the next step is for the Nevada legislature to greenlight a hotel tax that would ostensibly pay the public's share of the project, even if such a tax has plenty of other pending proposals for its use, proposals which would actually benefit Las Vegas residents.
G/O Media may get a commission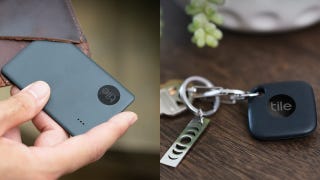 Up to 35% off
Tile Item Trackers
The Adelson group has of course been juicing the estimated economic impact of a Vegas stadium. More from KNPR:
And if the Nevada Legislature and Clark County Commission do seriously grapple with the $750 million question, there are plenty of questions to ask — such as whether the stadium would really generate $530 million annually in economic activity. ("The numbers are absurd on many levels. The average NFL team generates less than $350 million in annual revenue," says Holy Cross College sports economist Victor Matheson); and whether developers' projected game attendance numbers are realistic. ("The projections on the anticipated events, attendance, and overnight stays are all beyond the outer limits of wild optimism," says Jim Nagourney, a former vice president of business of the New York Mets and New York Islanders, and former sports consultant for cities of Anaheim, Baltimore and Chicago.)
Right on cue, Goodell's hand in all this was to play the Vegas proposal back against the city of Oakland:
"Well, you never want to see a community lose their franchise once, much less twice," Goodell said. "That's why we work so hard with our communities to say, 'This is what you have to try to get to,' because you need to try to make sure this franchise continues to be successful."
You never want to see a community lose their franchise … This is what you have to try to get to. "This" being, naturally, an even more attractive publicly financed stadium in Oakland. Even as he's using Adelson's gambit to pressure the city into paying up, Goodell feels Raiders fans' pain. All part of how this game gets played.

[KNPR]