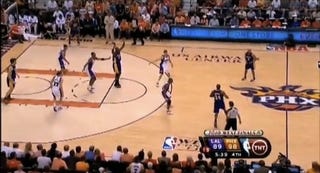 In sports, everyone is a winner—some people just win better than others. Like the Phoenix Suns' 2-3 zone, which has thus far discombobulated the Lakers and which is otherwise a regrettable development for hoopish fops like me.
The Suns evened up the Western Conference finals, mostly because their bench turned into the '73 Knicks last night, but partly because Alvin Gentry once again deployed what he calls his "girlie zone" (and what one of the Lakers called a "fuckin zone" after Game 4.). Good for the Suns and all, but, well, our angry Laker here is not wrong.
Nothing, with the possible exception of Jason Collins, is more antithetical to the spirit of basketball than the zone defense. The thing was born an accident in 1914 in a leaky West Virginia gym — the story goes that one of the coaches, tired of watching his players slide across the slick surface, simply ordered everyone to stand still — and grew in popularity in part because basketball in those days was played in a rice cooker and anyone shooting from the perimeter risked bouncing the ball off the ceiling. From the beginning, the zone was a coach's trick in a player's game. It was the bureaucratic imperative in sweatbands. It was football. James Naismith hated the zone (no one really remembers this, but he hated coaches, too). Phog Allen hated the zone. Nat Holman hated the zone. Frank Keaney, spiritual godfather to the Suns' freewheeling offense, thought the zone was "un-American," which seems right except that there's nothing more American than a coach who's willing to honk off his players, the other team, and every last paying customer in the joint if it means being on the right end of a 12-8 final. Pro basketball was smart enough to outlaw the zone in 1947 and dumb enough to bring it back in 2001. And now here we are, nearly a decade on, singing hosannas to the clever defense of the Seven Seconds or Less Suns. Look, I'm all for taking out the Lakers by any means necessary, but this is a cardinal heresy — the NBA's most joyful team winning with the bureaucrat's joyless toy. Fuckin zone.