In sports, everyone is a winner-some people just win better than others. Like Wayne Rooney, who finally made it onto the scoresheet. Too bad it's tops in a "world's ugliest soccer player" poll.
The World Cup has long been over for England, but that doesn't mean the British press won't keep piling on. The Daily Mail reports the results of an online survey, ranking all the World Cup rosters by physical beauty. I can only assume it's physical beauty, because I'm sure Rooney has the inner beauty of an innocent child, or perhaps a sheep.
Certainly the polling is far from objective. Sure, Rooney looks like a chimney sweep who headbutted his way to freedom from 19th century Merseyside, but the ugliest among 32 nations? Have they even seen Frank Ribery?
After announcing the results of their members' voting, BeautifulPeople.com opened up voting to the general public, and sure enough, results have changed a bit. Currently polling as ugliest is unfortunate Honduran midfielder Hendry Thomas. My question about voters having seen Ribery still stands.
The voting seems to be dominated by fans still paying attention to the tournament, as Spain comes in with the most attractive team overall, followed by the Netherlands. Fernando Torres is the most beautiful player in South Africa, according to voters.
G/O Media may get a commission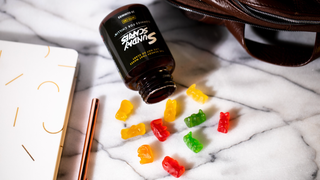 10mg CBD Gummies (22-Count)
Now, I'm sure you're asking two things: isn't the US a particularly attractive team? And, are these feelings normal? The answers are yes, and yes. We're third in the team beauty rankings, buoyed by Carlos Bocanegra.
Note: voting results are not verified by any respectable polling organization, and the voters seem to dislike black people, hispanic people, and especially Asian people. So, Wayne Rooney, you're off the hook. For now. In four years time, try scoring some goals, leading England to at least the quarters, and not being such a Shrek-looking motherfucker, and maybe you'll do better.