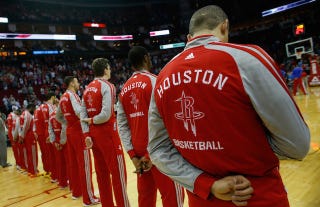 A man named Rasean Tate has filed a lawsuit in Brooklyn Federal Court alleging that he was called homophobic slurs by several members of the Houston Rockets while he helped cater the Rockets' locker room during a game agains the Brooklyn Nets on February 22, 2013.
Tate, a gay man who was at the time an employee of a catering company owned by Levy Restaurant Holdings, alleges in his suit that when he entered the Rockets locker room to help set up the team's buffet, he was called a "faggot" by the players. From the suit:
While Plaintiff's back was turned to Defendant ROCKETS's players, he began to hear laughter and taunting voices saying, "Get this faggot out of here!" and "He's trying to catch a sneaky peaky!" These series of comments were repeated a number of times by Defendant ROCKETS' players and staff. Plaintiff could hear Defendant ROCKETS's players' overlapping voices and laughter.
The lawsuit claims that the incident was witnessed by a member of the Nets staff who is "in charge of the visiting team's locker room" and told Tate to "just leave," assuring him that he would take care of it. The suit also says that Tate informed his supervisor at the catering company of the incident.
The suit claims that news of the incident reached several people within the Nets' organization, along with higher-ups at the catering company and Tate's union. Tate claims that he received a formal apology from the Nets' senior vice president of human resources, and was told that "all relevant entities" were notified of the incident.
Tate is suing the Rockets as well as Levy Restaurant Holdings. The suit claims that after informing his employer of the incident, Tate was assigned catering gigs that did not pay very well, and was barred from working in locker rooms. Tate alleges that he was being discriminated against because of his sexual orientation and because he came forward about the alleged incident with the Rockets.
The whole lawsuit is embedded below. If you have any information about what happened in the locker room that day, do let us know.