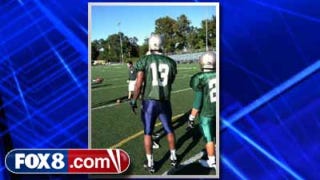 Your morning roundup for Oct. 5, the day we were propositioned via breakfast burrito. Photo of LeBron in pads back at school courtesy Fox8. Got any stories or photos for us? Tip your editors.
What we watched: The four baseball playoff games, which combined to cover the gamut. The Rangers ended their series, the Phillies took a lead in theirs, the Yankees forced a Game 5 and the Diamondbacks staved off elimination. The two National League series resume today.
Elsewhere
So the NCAA is a business, but it's not a "business": "Money matters. Money always has mattered and it always will matter. But that's not the end in of itself. I've been misquoted as describing it as not a business. Well, we're not a business, we are not a for-profit business. We generate a lot of revenue to support all of these programs." [Bozeman Daily Chronicle]
And so it goes, Part I: "The impasse between Time Warner and the NFL Network began before the channel's birth in 2003 and has continued beyond its addition in 2006 of the regular-season games and its introduction two years ago of the NFL RedZone channel. The RedZone takes viewers on a manic stadium-hopping trip to potential scoring plays inside the 20 every Sunday afternoon. Last week, there was a brief burst of hope that an agreement was close, according to The New York Post. But no deal has been announced, and neither side is willing to discuss any progress that might have been made." [New York Times]
Your Old School Flea Circus Interlude:

And so it goes, Part II: "Turns out Missouri wasn't near the top of the Big Ten's list. Now things have come full circle. Everyone can blame Texas for throwing its weight around, but how is Missouri different at this point? It suddenly has leverage. It is holding a league hostage. It is making a perceived money grab. It could be the fourth school to leave the Big 12 in 16 months — and it doesn't care. Expect the next few weeks — if not months — to be a period of introspection for Brad Pitt's school. Missouri has to decide if it wants to leave its ancestral home. The Big 12 has roots that go back 104 years for Missouri." [CBS Sports]
A real emergency: "According to WestAllisNOW.com via CBSSports.com's Eye on Baseball Blog, a 97-year-0ldBrewers fan called 911 on Sept. 26 to report his TV remote stolen. That means all of this went down pre-playoffs, which makes this seasoned veteran even more of a hardcore Brew Crew fan than you might imagine. As we have seen before, there are some pretty committed Brewers fans out there. This guy could be No. 1." [Larry Brown Sports]
Dan Snyder's new yacht is so Dan Snyder: "Washington Redskins owner Dan Snyder is now the proud owner of a $70 million, 224-foot 'super-yacht.' The Washington Post's Reliable Source reports that Snyder's recent purchase, the Lady Anne, is one of the 100 biggest yachts in the world. Snyder bought the yacht with a group of investors. The yacht's listing price was $86 million when it went on the market earlier this year, but sold for considerably less. (The Post's $70 million figure was an estimate.) It was custom-made in 2006 by the co-founder of Nine West, Jerome Fisher. Later, Fisher and his wife would lose $150 million with Bernie Madoff." [Shutdown Corner]
Merch: Managing editor Tom Scocca and contributing editor Drew Magary have both written books. You can buy Scocca's Beijing Welcomes You: Unveiling the Capital City of the Future here, and Magary's The Postmortal here. Now do it.
Send stories, photos, and anything else you might have to tips@deadspin.com.