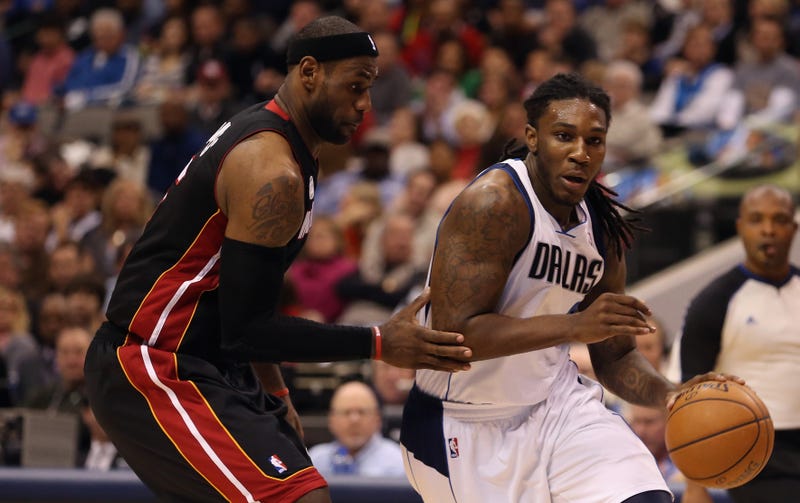 If you've played even rec-league basketbal, you know that desperate, flailing fouls are often the last resort of an overmatched defender. Despite an arsenal of chase-down blocks and consistent efforts to lock up the other team's best player, LeBron James essentially never finds himself in that position, and what looks like a recent statistical anomaly—he's basically stopped fouling—indicates his defensve prowess in a nutshell.
A few days ago, Heat beat writer Surya Fernandez pointed out that "LeBron has only committed 6 fouls this entire month, with 3 of them called on the first day of December in their victory against the Nets." Since then, we've been keeping a sort of running tally of LeBron's games and minutes without fouling: He's now gone six games (during which he played 225 minutes) since his last foul—if you factor in the prior two games, he's committed only two fouls in his last 299 minutes of court time. One of them was offensive, the other was a shooting foul on, of all people, Roger Mason in the first quarter of a Hornets game on December 8. Other than that, James has been able to defend his position with superlative effectivness (to say nothing of other positions—James has played a good chunk of his minutes at power forward this year) without fouling.
Yesterday, ESPN's Tom Haberstroh asked LeBron whether he was prouder of his streak of 20+ point games—it's at 24 now after last night's 30-point effort against the Jazz—or his run of five (now six) games without committing a foul. He diplomatically chose the non-fouling streak, which is logical because it sounds like a nod to teamwork and fundamentals, and the quote was trumpeted with the headline, "LeBron James: 'Scoring not my job.'"
He's right, though. Where the context for James's streak of games without fouling is steadily achieving his career averages (26 points, 7 rebounds and 6.5 assists per game during the span) and often playing out of position, LeBron's ability to refrain from fouling is a better testament to his all-around dominance than his ability to score points. The only wing playing similar minutes and averaging fewer fouls is Luol Deng, and Deng—perhaps James's only real challenger for best wing defender in the league—is not asked to carry a comparable offensive load. (John Hollinger called Tayshaun Prince, who also averages slightly fewer fouls than James per 48 minutes, "the league's most extreme non-gambler.")
Other stars don't approach James's defensive economy. In Kobe Bryant's last 299 minutes, he's committed 25 fouls. Carmelo Anthony went through a stretch in November in which he committed 31 fouls in 305 minutes. Even Kevin Durant, generally thought to be lithe and graceful enough to stay in position, and surrounded by sufficient defensive talent to avoid particularly difficult assignments, has fouled 17 times in his last 296 minutes of court time.
Even ardent boosters of each these players would likely acknowledge that they spend some, if not most, of their time matched up against inferior wings or otherwise hidden on defense. Not so with James, the Heat's best defender and the one that regularly guards the opposition's foremost offensive threat. LeBron need not prove his value at this point—the current NBA debate has mostly moved on from the "Is LeBron legit?" debate—but he continually proves it anyway, in new and unexpected ways. For all his offensive virtuosity, we forget that we're also watching a nightly clinic in diligence, defensive positioning, and how to channel athleticism.