It's been well-established that LenDale White says what he wants, when he wants. Apparently, what he wants now is to humiliate the UCLA Bruins, and one Bruin specifically—Maurice Jones-Drew.
The best sports movies according to Toheeb Jimoh
It seems the two had a little radio show war of words a couple weeks ago before their current teams, Tennessee and Jacksonville went at it. When Jones-Drew was asked what he would do if his son grew up and went to USC he replied, "I'd say, son, do you want your dad to go early to his grave? It would be tough to see my son wearing that ugly red and yellow." (Pete Carroll disagrees.)
G/O Media may get a commission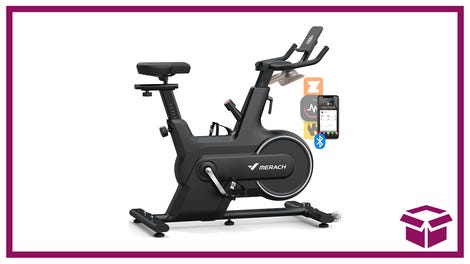 14% off + Coupon
Merach Indoor Cycling Bike
Asked the same question two days later on the same show, White responded a little more thoughtfully:
"I probably would ground him until he realized that that's the worst grief you would ever imagine. You know, powder blue. I guess enough said. Their powder blue uniforms and that ugly mustard color.

UCLA [stinks]. It's the worst school you could ever go to if you were a football player. ... You got to make your choice. If you want to get dominated by your crosstown rival, where they can come on your campus and take your girlfriends and stuff, then you make that decision."
The girlfriend stealing motif is obviously a favorite of his, because he repeated it yesterday on the "Mason and Ireland" show on ESPN radio. It also included some choice words for his friend Maurice.
For the audio disinclined, highlights include:
Does it feel better to beat UCLA or Notre Dame?
Definitely UCLA, because after you beat them you go on campus and take their girlfriend.
Difference between Bruins and Trojans?
"Heart and winning ... If you want to [not] win and go to the Vegas Bowl or Tangerine Bowl, then that's where you go."
Prediction for Saturday?:
70 to 3.
Final thoughts?:
"If Maurice Jones-Drew is listening to this somewhere ... your team sucks."
Ok, then. See you Saturday!
LenDale White, Maurice Jones-Drew in USC-UCLA smackdown [LA Times]
Mason & Ireland [ESPN Radio]