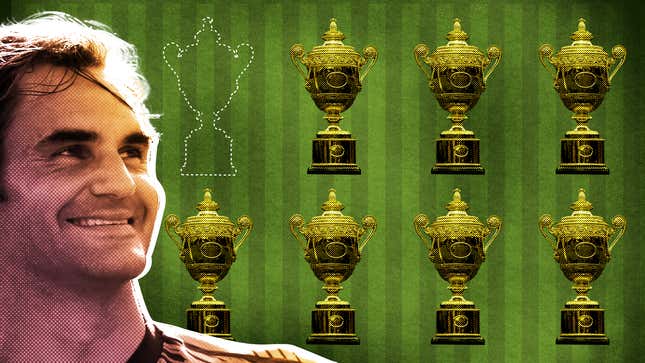 Some hedging:

Roger Federer will turn 36 exactly halfway between the end of this Wimbledon and the beginning of the next U.S. Open. The only time someone this old won a major was Ken Rosewall back in 1972.*
Chris Paul should ride the bench next season | Keep it a Buck(et)
Roger Federer, until this year's miraculous Australian Open run, had gone five years without adding a major onto his heap, so maybe we can conceive of January as just a fluke, an elder statesman in a Swoosh nightcap sputtering awake for a hot second before settling back into the long, deep sleep.**
Roger Federer in 2017 has lost matches to an unlikely pair, both outside the top 100: a ghost who has not won a single tour-level match since (seven straight first-round L's), and a quasi-retired 39-year-old who is easing into the quiet post-tennis life by managing tournaments (that Roger Federer wins).***
Roger Federer has never managed a stranglehold on his favorite major quite as pitiless as the one that his rival Rafael Nadal held on his: next to the Spaniard's otherworldly 78-2 at the French Open, 84-11 at Wimbledon looks almost mortal. He's lost in finals here; he has never been that kind of inexorable force.****

*The second-oldest to do it, after all Ken Rosewall's geriatric records, is Roger Federer.
**He then went to win the other two big hardcourt titles, too.
***These are actually the only people to defeat Roger Federer in 2017. He won the four other tournaments he entered.
****Nadal does have him beat here, and surface-wide, too: 91 percent winning percentage on clay to Roger's 87 percent on grass. But 63 consecutive matches won on grass, and 5 straight Wimbledon titles, isn't too bad either.
This is just to note that this major, unlike the last one, cannot be treated as a foregone conclusion. What you can say is that Roger Federer is 24-2 on the season and is still standing on fresh legs and still playing hawkish tennis, gorgeous in its impatience—the tack of someone with no time to spare, someone still looking to close out service games in under a minute. His backhand drive has firmed up into a bludgeoning thing; his slices still kiss the turf and then hug it so close that you'd be lucky to scrape it away; on serve he could single out particular blade of grass the way you or I would call a bank shot; his finesse at the net will never age; and, most salient, he has yet to face anything resembling a consistent threat from the younger ranks. This past weekend, he cut down and hollowed out the Next Great Big Tall Hope in under an hour to win the Halle Open.
The grass court season—if you could even call it that anymore, given its sad brevity, and the absence of even a single Masters event—now nears its apex in all-white, and in 2017 Roger Federer is still the favorite. Whether that's a bright testament to his longevity or a bleak parable about stagnating competition (or both) is up to you; I'm just here to watch the No. 3 seed snag his eighth title, and finally break free of his tie with Pete Sampras for the most Wimbledons ever. Maybe the drought ends this fortnight in southwest London.
Here are the people who could plausibly stop that from happening, in order of likelihood:
Andy Murray
Benefit of the doubt is owed to the No. 1 seed, the defending champion, the host nation's ornery hope, with two Wimbledons already under his mattress. After a spotty reign as the world's highest ranked tennis player, Murray began to look a little more presentable at the French Open and—both as a matter of stated preference and historical performance—he looks even better on grass. That said, last week he lost to world No. 90 in his first match at Queen's Club, so nobody should get overeager. May the homers atop Murray's Mound enjoy their strawberries and cream and premature exit.
Best Wimbledon result: Won in 2013, 2016
Record versus Federer (on grass): 11-14 (1-2)
Could face Federer in: Final
---
Rafael Nadal

Just throwing this name on here to cover my bases—this is an insurance policy. Nadal, fresh off his 10th French, sat out all the tune-up tournaments on grass, hoping to rest his bones after a furious 24-1 clay season. While it's hard to anticipate that he'll just waltz onto the surface least amenable to his style of play and start winning, he is serving better than ever, and he is such a motherfucking bull that his game can rampage through all distinctions of dirt or concrete or grass. Let the London rains fall and saturate the court, and Nadal could hit that topspin forehand off the surface of a marsh and it would still bounce up as if possessed. Also, Nadal's serve, never a strength of his game, is only improving with time: in 2017 he has won 69 percent compared to a career average of 67 percent, with the most notable gains made on his second serve, which has bumped up to 62 percent from a career average of 57 percent. Grass rewards a strong delivery.
Best Wimbledon result: Won in 2008, 2010
Record versus Federer (on grass): 23-14 (1-2)
Could face Federer in: Final
---
Feliciano Lopez

To list this man this high, in 2017, feels twice as surreal than saying that Roger Federer is the heavy favorite, almost irresponsible. But on paper Lopez, a fellow 35-year-old, had the best grass-court season of anyone, GOAT included. First he made the finals at Stuttgart Open, and then won Queen's Club after surviving a murderer's row: Stan Wawrinka, Tomas Berdych, Grigor Dimitrov, Marin Cilic—all top 10 players past or present. Even at his ripe age the No. 19 seed still boasts a neat lefty serve-and-volley game and a nasty slice to hack himself out of bad positions.
Best Wimbledon result: Quarterfinal in 2005, 2008, 2011
Record versus Federer (on grass): 0-12 (0-1)
Could face Federer in: Semifinal
---
Nick Kyrgios

If you're one of the wondering why people keep throwing this guy attention despite the steady trickle of disappointments, put your skeptical eyeballs on the Miami Open semifinal against Roger Federer. The two-way serving clinic ended up with a score line of 7-6 (9), 6-7 (9), 7-6 (5). That is about as close at is possible for a tennis match to be:
Kyrgios was the most difficult foe Federer has faced all year, those two losses to cupcakes notwithstanding. If not for the question marks over his hip—he took a grotesque fall in his first match on turf and had to withdraw—or general mental stability, you could pencil him in for the quarterfinals at worst. Wimbledon offers the ideal grounds for him to loose firecracker aces and winners all over the court, or exploit his bone-deep feel for the ball with net play. The guy famously said he hates running, and the surface, with its staccato points, doesn't demand too much of that from its best players. Should a focused and healthy Nick Kyrgios somehow materialize and not disintegrate for the next two weeks, you could count on Jason Pierre-Paul's hand the players equipped to end his run.
Best Wimbledon result: Quarterfinal in 2014, 2015
Record versus Federer (on grass): 1-1 (0-0)
Could face Federer in: Final
---
Novak Djokovic

He still seems shook. Yesterday he followed a rabidly paranoid Instagram account dedicated to the "End Times" and exposing Illuminati. He's sunk to the No. 4 seed after a dull season plagued by miscellaneous doubts, he was turned to ash at the French Open, and he doesn't seem like he's quite ready to do it. But, then again, maybe he will do it. Candidly, I'm tired of watching Novak Djokovic beat Roger Federer at Wimbledon. At least this time it would happen, if it needs to happen, before the finals.
Best Wimbledon result: Won in 2011, 2014, 2015
Record versus Federer (on grass): 23-22 (2-1)
Could face Federer in: Semifinal
---
Various Tall Men

Tomas Berdych has always been capable of ruining Roger's day, and came precariously close to doing so at Miami. Marin Cilic made the final at Queen's and seems to suck no longer. Milos Raonic, who dispatched Federer from the semifinals of Wimbledon last year, has returned from injury. All of these large fellows serve big and smite the ball on their groundstrokes. But: just make them run, Roger.
Best Wimbledon result: Final 2016 (Raonic)
Combined record versus Federer (on grass): 10-33 (2-5)
Could face Federer in: Quarterfinal (Berdych)
---
Alexander Zverev

This 20-year-old is tall too, and the grass, with all its low and unpredictable bounces, is not particularly kind to the long-legged baseline grinder. At six-foot-six his serve is not the beast it will one day be. Roger Federer handily broke it, and him, at Halle last week. Zverev is a future No. 1 player, with a handful of Wimbledon victories in his wide-open future; it's just too hard to envision that 2017 is one of them.
Best Wimbledon result: Third round in 2016
Record versus Federer (on grass): 1-2 (1-1)
Could face Federer in: Semifinal
---
Grigor Dimitrov

Even if you've never heard of this man, within a few minutes of watching him, something should look uncannily familiar. This Bulgarian does the most technically sound Roger impersonation the world over, with much less to show for it. So-called Baby Fed tore through the beginning of the season, inspiring some viewers—including this one—to start frothing about his potential, but, in line with the overall pattern of his career, he's fallen short of those expectations ever since. At his rare peak, he's a silken trickster, floating around and shot-making like the man he brazenly based his game on. Still won't beat him, and never has.
Best Wimbledon result: Semifinal 2014

Record versus Federer (on grass): 0-5 (0-0)
Could face Federer in: Fourth round