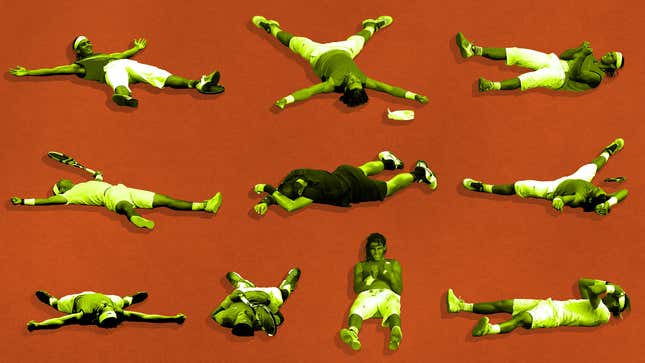 We're going to proceed on the assumption that Rafael Nadal will (literally) sink his teeth into the French Open trophy, as he has nine times since 2005.
Is Texas or Florida State a bigger national title contender? | Agree to Disagree
But say, for whatever reason, you are reluctant to prematurely hand it to Rafael Nadal, who just chugged through a 17-1 season on his favorite surface, and now enters the finale as heavy a favorite as at any other point in his historic career, despite having less hair to show for it. Let's say, for some reason, you bet against the 30-year-old winning his 10th at Roland Garros, and are curious about the other contenders, in the way a curious child might stoop to show interest in the individual blades of grass, clovers, and dandelions lying in the path of an oncoming lawnmower. No one seems capable of stopping Rafa from completing La Decima on the most fruitful courts of his career, but if we had to humor the notion, here are the candidates most likely to pull the upset, in descending order.
---
Dominic Thiem

The 1 you saw in 17-1 refers to this man, a toiling 23-year-old Austrian who heaves his entire being into every ball of every rally. He presents heavy groundstrokes and a high-bouncing kick serve, all slathered up in so much top spin that Rafa must feel a little bit like a mirror match. In their two well-fought duels this clay season, Thiem laid out a blueprint for how to beat Nadal—don't let yourself get pushed way off the baseline by his top spin, just go for high-risk, irresponsibly bold shots whenever you see a window—and he is one of a very rarefied group of human beings with the tools to execute it. Others include Stan Wawrinka (more on him later) and Robin Soderling, who defeated both Nadal and Roger Federer in late rounds of Roland Garros in his too-brief, mononucleosis-stunted career. They've shown it can be done. Can Thiem, hard-hitting but prone to overexertion, reprise last year's deep run to the semifinals and dethrone the king? Probably not, but he's the most promising prospect among the entire Non-Rafa field.

Best previous French Open result: SF, 2016
Career record versus Nadal (on clay): 2-4 (2-4)
Where they could meet: SF
Gameplan: Resist your natural inclination to sink way too deep behind the baseline, and hit every pitiful green-yellow hair off of the ball's surface; get some free-ish (nothing is truly free against Rafa) points off the kick serve.
---
Novak Djokovic

The world No. 2 and defending champion is navigating one of the least successful and most spiritually turbulent seasons of his career—here's a timeline of his woes, leading up to firing his entire coaching camp. Gone is the mercilessly consistent, unbeatable baseliner, but last week in Rome he flashed glimpses of his old self against Thiem before vanishing in the final. But that was just enough to offer a sliver of hope. On the plus side, he now has Andre Agassi coaching him for a brief stint here at Roland Garros. Maybe the bald-headed destroyer of flat backhands can find a way to instill some of the aggression that's been grievously absent from Djokovic's game this season. Agassi's first-ever coaching project is as high-profile a subject as he could ever find, in the most emotionally fraught juncture of his career. Go forth and figure out what's malfunctioning.
Best previous French Open result: W 2016
Career record versus Nadal (on clay): 26-24 (7-15)
Where they could meet: SF
Gameplan: Must psychologically give a shit about tennis again; must restore some of the depth on his groundstrokes that made him so effective versus Rafa in his deity-like 2011 season, and ever since.
---
Not Roger Federer

Roger Federer sat out the entire clay season ostensibly to "prepare" for the grass court season—which consists of just three tournaments, the first of which starts a full two weeks after the French Open final—but most likely because Rafa looked unbeatable, and it wasn't really worth the effort. Thus Federer, despite his 3-0 record against Nadal this season, will be watching this tournament from what must be a comically luxe sofa with some good fondue less than a racket's length away. As one of our astute commenters suggested, Nadal might as well invite him to the coaches' box for the final. A cute gesture.
Best French Open result: W 2009, and what a relief it was
Career record versus Nadal (on clay): Hmm, can't seem to find these figures for some reason
Where they could meet: In the Wimbledon semifinal
Gameplan: Enjoy the show.
---
Stan Wawrinka

The Stanimal has spent most of the clay season slumbering, as it is wont to do. Whether it rears its ruddy, disheveled head at the Grand Slam, as it occasionally does, cannot be predicted. Unlike a bear's annual hibernation, or a comet's period, it follows no discernible cycle. All that's known: When it does wake up, it's more or less unbeatable. With his melodramatic samurai backhand and comparably huge forehand, Wawrinka is one of the few living humans equipped to hit Rafa off the court with sheer pace. He's never done so on in a best-of-five on this surface, and he's shambled through this clay court season, but by now we've learned to never count him out at a major.
Best French Open result: W 2015
Career record versus Nadal (on clay): 3-15 (1-6)
Where they could meet: F
Gameplan: Move your feet well enough to set up weapons-grade groundstrokes, then fire away.
---
Alexander Zverev

No one deserves the designation of "wunderkind" more this lederhosen-clad German 20-year-old, fresh off the biggest title of his career at the Italian Open. Zverev stands 6-foot-6, but nimbly prowls the baseline like a much smaller human, and offers a balance of consistency, pace, and depth in his baseline play that almost no other player can match. Watch him thwap backhands into the last four feet of the opponent's court, over and over, without ever looking harried; he can apply constant pressure without overextending. My stupid pet theory, which was inspired by a stray Tennis Channel graphic—due to Zverev's height, Nadal's high-bouncing top spin shots would pop off the clay and comfortably into his strike zone—has yet to be borne out by any wins, but he got tantalizingly close in their five-setter at this year's Australian Open. He'll need to banish the more recent memory of his 6-1, 6-1 loss to Rafa on his 20th birthday, but, sure, the kid could do it.
Best French Open result: R32 2016
Career record versus Nadal (on clay): 0-3 (0-1)
Where they could meet: F
Gameplan: Don't get impatient in the rallies, keep pestering Rafa with steady depth until he coughs up a short forehand that can be put away.
---
Andy Murray

Last year's French Open runner-up is phoning in one of the worst seasons of any world No. 1 in recent memory, taking an L from a 20-year-old far less established that the one above, and losing to the mercurial Fabio Fognini. In that match, he loudly self-diagnosed the issue: "I can't move." Clay—unless you can really end points by crushing the ball, in a way Murray typically can't—is all about smooth movement. Murray's counterpunching game, as a general rule, is all about smooth movement. He'll need to get his footwork sorted out if he wants to stand any kind of chance of repeating last year's runner-up performance. Murray might be a legendary tactician, but his current woes seem to run much deeper than tactics, unfortunately.
Best French Open result: F 2016
Career record versus Nadal (on clay): 7-17 (2-7)
Where they could meet: F
Gameplan: Not even really sure where to start.
---
David Goffin

Goffin, the lean, clean-striking little dude from Belgium, is in the midst of a career year, vaulting into the top 10 for the first time. His recent win over Novak Djokovic at Monte Carlo felt like an inflection point: Finally, he had counterpunched the ur-counterpuncher. More recently at Madrid he took Nadal to a tiebreak, and then in the next set litigated one of the most hotly contested individual games of the season, full of circus-style shot-making on both sides. Goffin flits around the court like a sure-footed cat and hits the ball with precision, especially on his trademark backhand down the line, which together are sufficient to beat most opponents. But in this particular matchup he cannot afford to be anything but his most aggressive self.
Best French Open result: QF 2016
Career record versus Nadal (on clay): 0-2 (0-2)
Where they could meet: SF
Gameplan: Play a little loose, and try to muster some of the outrageous shot-making that made their last match so entertaining.
---
Kei Nishikori

The Japanese star's career continues to resemble a perpetual fight against his own body. Which is tragic, because his spry, aggressive baseline game is both incredibly easy on the eyes and incredibly lethal on this surface. For years his fleet footwork and bold shot-making looked like more than enough to earn him a major title or two, if only he could sustain the slog of seven rounds. Unfortunately Nishikori has looked worse for wear lately—he withdrew from Madrid with injury, lost to Delpo in Rome, struggled with Kevin Anderson yesterday, and lost to Mischa Zverev (the older, way less good one) today at Lyon. At his best he can beat anyone, but his best is hard to come by. As bleak as it is to contemplate, you have to wonder if the 27-year-old's career has topped out.
Best French Open result: QF 2015
Career record versus Nadal (on clay): 2-9 (0-3)
Where they could meet: F
Gameplan: A fistful of painkillers, I don't know.
---
Probably Not Juan Martin del Potro 

The most exciting rehabilitation story in men's tennis has sadly stalled out: Delpo is listed in the draw, but may miss his second straight Grand Slam with injury woes, this time due to pain in the shoulder and back. He beat Nadal in both of their meetings last year, which makes you wonder how differently some majors could have gone if his wrists held up. His forehand remains one of the most lethal (and peculiarly loud) on tour, but after his wrist surgeries, his backhand became a liability. Despite moderate improvement, it's still a weakness that Nadal would pick apart given the slightest chance. If del Potro is headed into this tournament already hurt, it's hard to envision him standing much of a chance against Rafa.
Best French Open result: SF 2009
Career record versus Nadal (on clay): 5-8 (0-2)
Where they could meet: F
Gameplan: Hide your backhand like your deepest, darkest secret.
---
Gael Monfils

Just throwing these on here to appease any sad, deluded homer looking for solace. Monfils, for all his prodigious gifts, will not win his local Grand Slam. There are even questions as to whether he's healthy enough to play, given his recent withdrawals from Monte Carlo and Rome. Though honestly I could not script a better storyline for this championship than if this rangy, tactically deranged, lovable veteran randomly snagged his first major and then retired.
Best French Open result: SF 2008
Career record versus Nadal (on clay): 2-13 (0-5)
Where they could meet: F
Gameplan: Hit everything back, put on a good show, and if you happen to incidentally win the tennis match, that's lovely.
---
Nick Kyrgios

The Australian famously upset Nadal at Wimbledon way back in 2014, hurling himself into popular consciousness, where he's since vacillated between raw genius and raw fuckery. Kyrgios is what results when you take a servebot, install an enormous forehand capable of winners at will, a deceptively solid backhand, the ability to mix up pace at any moment, and preternatural touch ... then sap it of any consistent motivation to win tennis matches. In his present form, it's hard to have too much hope about his prospects at Roland Garros. He's been dealing with recent emotional trauma—the loss of his grandfather—and a re-aggravated, nagging hip injury.
Best French Open result: R32 2016, 2015
Career record versus Nadal (on clay): 1-2 (0-2)
Where they could meet: F
Gameplan: Bask in all the points that your serve grants you, and try to find a way to dig in on return—despite your soft hands and keen reflexes, you're among the dregs of the tour in return games won.
---
This was a fun exercise in hypotheticals. Now that you've met these guys, you'll probably have far more fun watching them play each other than you will watching them try to delay the inevitable: