Forty-eight hours of the most idiotic, baldface lies and studiously overlooked corruption spread around amongst smirking, backslapping insiders in a posh setting—the IAAF calls that Thursday and Friday.

Track and field's international Cosa Nostra met at the Fairmont Hotel in Monte Carlo (because they couldn't find a more budget-conscious venue) on March 10th and 11th to see how things were going since Russia was found to be one giant, lucrative doping machine, and was subsequently banned as a country from World Championship and Olympic competition. Everyone turn around and look at those dirty rotten Russians.

Let's recall that Russia's problem was brought to light by a brave, fed-up, juiced-up Russian athlete who sang to journalists, not the World Anti-Doping Agency whose job it would seem to be, because the top people at WADA were in on it. Oops.
Anyhoo, IAAF president and Nike whore Sebastien Coe (the not guilty by reason of ignorance v 2.0 of incarcerated past president Lamine Diack) has been very consistent with the lie that he is absolutely dedicated to clean sport, and that no no no, cleaning house of all the whole nest of them from the past administration is not necessary. While he fell short of saying he and his cabinet of career miscreants were innocent, Coe insisted that the same crew were the very ones, the only ones qualified, to turn the sport around and crack down on doping and not take bribes to cover up positive tests ever again, no matter how sweet the deal. No need to toss that bunch out with the trash. No sir, scout's honor.

Coe and company have had more than three months to reboot track and field. The recent council meeting revealed what they've accomplished. 1. Nothing. 2. Filling positions with like-minded frauds, and 3. Perhaps perjury.
G/O Media may get a commission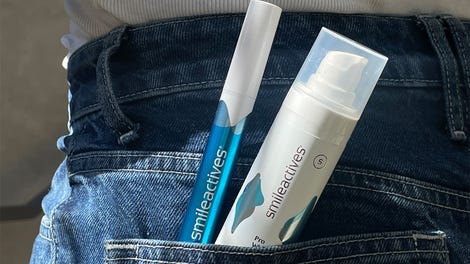 58% off
Whitening Powerhouse Pen & Gel Duo
Let's start with #1. Nothing. First of all, there's been no change of personnel in the IAAF inner circle. Coe and members of the council were all warming chairs and looking the other way in Lamine Diack's administration too. So they tend to be very patient with their friends in the Russian athletics mafia, a group that is down by two, who died mysteriously after saying they were going to publish truth. Which is to say, business as usual in Russia. On March 6, those same troublesome German journalists who first made the IAAF-Russian doping connection reported that indeed, nothing has changed in Russian athletics:
"Entitled Russia's Red Herrings, the film by Hajo Seppelt and Florian Riesewieck aired yesterday and claimed that the ban on the country issued by the International Association of Athletics Federations (IAAF) last November was widely being ignored.

Among the allegations was that an official of the Russian Anti-Doping Agency (RUSADA) - which has been declared non-compliant by WADA - gave athletes advanced warning of when drugs tests would be carried out.

It was also claimed that an individual connected to the All-Russia Athletics Federation (ARAF) was still supplying banned substances and that a coach who was sanctioned following WADA's damning Independent Commission reports was still working."
WADA, the IAAF, all of the same buddies who have been enabling each other's self-enriching malfeasance for years, were shocked, shocked I tell you, but four days later, Lord Coe had resumed his happy demeanor (read: looked at his bank balance) and announced that, though progress had been made in Russia, they should get more time to prove they can play nicely at the Olympics. Or maybe more time for the rest of the world to forget that the very top people in track and field and various anti-doping agencies and Russian Athletics colluded to actually encourage doping, enjoyed the success of the doped athletes, and then extorted the athletes to cover up their doping and get some more of their prize money. And all of those people are still in place, doing the same thing! Very lucrative!! But bad. Oh yes, publicly, very bad. Doping earns the folks at IAAF and Russian Athletics and heaven knows, Nike and the Olympic Committee, so very much nice easy money, but they must put on their public face and say they hate doping. Because it's cheating. :( But then their pocketbooks vibrate warmly, reminding them that, thank god, nothing has actually changed.

Oh yes, #2, filling positions with like-minded frauds. This tiny paragraph,
Stephanie Hightower, the President of USA Track & Field, who has been appointed by IAAF President Sebastian Coe to work closely with Capdevielle to try to help athletics solve its current crisis, recommended to the Council that "they deal with the situation immediately".
Let me rest, that's some strong talk. Stephanie Hightower? She's the one that USATF members, mostly athletes, voted 392 to 70 to NOT be the US representative at IAAF, but USATF wisely recognized she would fit in really well at IAAF, and sent her off to Monaco against the constituents' wishes. One thing for damn sure, Stephanie knows cronyism.
While IAAF president Seb Coe is being grilled by French investigators and parliament about bribery and money laundering in the global organization, the Orange County Register's Scott Reid did a thorough job explaining how the global business model works at the USATF branch office. Reid pointed to a recent example: USATF president Stephanie Hightower naming her good friend Robin Brown-Beamon to the organization's Law & Legislation Committee. It was a controversial assignment, to say the least, because seven months ago Brown-Beamon was suspended from her position as national athletics chair at the Amateur Athletics Union for a, "consistent, intentional, knowing, self-serving [pattern] of code violations."
I'm not entirely convinced Stephanie Hightower can deal with a doping crisis immediately, but I know she knows how to take care of her friends and spend money without accomplishing anything.
And while it seemed like Lord Coe and his buddies were busy jacking off per usual, Coe was in fact getting himself perjured. #3.

Lord Coe was accused yesterday of giving "untrue" evidence to parliament during a select committee investigation into blood doping in athletics. Coe came under attack from scientific researchers who claim the International Association of Athletics Federations blocked the publication of a study which found up to 45 per cent of track and field competitors [in 2011 World Championships] may have been on drugs....


In a letter to committee chairman Jesse Norman MP which was published yesterday under parliamentary privilege, University of Tubingen chancellor Georg Sandberger and Professor Rolf Ulrich, the study's lead author, wrote: "Lord Coe and Mr Capdevielle rejected to give clear answers to your questions why IAAF still withholds the release of the study for publication in a scientific journal.
Oh gosh, this is probably a semantics thing. Coe et al are arguing about the meaning of the term "published," when everyone else in the world is pretty clear on the meaning of the word "untrue."
photo credit: Getty Images

---
Go out and get some exercise.