Lionel Messi regularly makes a hash of maintaining good PR. There are his tax evasion issues and other alleged business improprieties, accusations that he's a vindictive diva in the locker room, and everything that goes with his "failure" to win anything for Argentina. So it makes sense that his recent trip to Gabon, during which he met the country's president and attended the ceremonial opening of construction of a new soccer stadium, did not go over like he probably hoped it would.
Originally, the story went like this: Messi flew into Gabon along with friend and former teammate Deco to honor a commitment they'd given a fellow ex-teammate, Samuel Eto'o. Eto'o, who is closely involved in various soccer-supporting initiatives across Africa, played a part in the construction of Gabon's new stadium and requested the presence of his two old pals. Though Eto'o himself couldn't make it to the ceremony, Messi and Deco kept their word to attend.
However, it was later alleged by soccer publication France Football that the trip was not simply out of the kindness of Messi's heart. Instead, they claimed to have found evidence that he was paid €3.5 million for the appearance. This was not well-received in the struggling nation, as it appeared to be yet another example of controversial Gabon President Ali Bongo wasting his country's resources:
Gabon and Messi, however, have denied the report, reiterating that it was all done because of his relationship with Eto'o and two other former Barça execs who have roles in African soccer. Spanish paper Mundo Deportivo also claims to have verified through their own sources that Messi was not paid.
Yet this wasn't the only controversy to arise from Messi's time in Gabon. The Union du Peuple Gabonais, a local political party, released a statement bashing the Argentine forward for his choice of clothing. Under the headline "Gabon/Lionel MESSI, an ill-mannered billionaire in shorts in Gabon!" the UPG went in, as translated by ESPN FC:
"The messiah of football arrived in Gabon like he were going to a zoo: dirty, unshaven and his hands in his pockets, looking for peanuts to throw to them!

"When you're called Lionel Messi and you're a multi-billionaire, you don't have the right to present yourself to officials of a republic, even a banana one, with your hands in the pockets of a ripped, tattered pair of shorts.

"Gabon isn't a zoo. We don't know what the Argentine came to Gabon for, but we at least have the right to denounce his negligence and his lack of respect for standards and principles. We are uneasy with Messi's attitude and his attire. Only for these reasons, linked to respect for the host country, do we condemn the footballer's indelicateness, to say the least!"
G/O Media may get a commission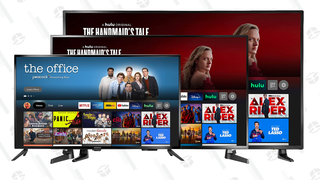 Up to 44% off
Prime Early Access - Insignia Fire TVs
While it's maybe a little strong to say Messi looked "like he were going to a zoo" and the racist implications that entails, it's hard to imagine him showing up to meet Obama dressed like that.
Worry not, Leo. You only have to wait a few more weeks before you can get back where you belong: on a pitch, where no one cares about the lack of finesse when it comes to your brand posturing.
[ESPN FC]