Manchester City and Liverpool are incapable of playing a boring match against each other. The presumptive Premier League champs have met Jürgen Klopp's squad four times this year, and each time, it's been wildly entertaining. City kicked things off with a five-goal blowout after Sadio Mané picked up a dumb red card, then Liverpool struck back with a thrilling 4-3 win to hand City their first loss in the league, before the two teams finally met in this year's Champions League quarterfinals.

Liverpool, buoyed by a ravenous home crowd, completely steamrolled Pep Guardiola and City with a three-goal victory. The best of the trio of goals was Alex Oxlade-Chamberlain's perfect hit.
Even with a 3-0 cushion and the possibility of grabbing the tie's only away goal, Manchester City seemed to have a legit chance at advancing. After all, they've pulled off similar demolition jobs during their unimpeded march through the Premier League this season, and thanks to the largesse of their galactically wealthy Emirati owner, their squad is replete with the necessary attacking talent to mount what would need to be an all-time comeback.
And for most of the match, the comeback felt acutely possible, if still not likely. A botched Virgil van Dijk clearance gave City the opening goal in the first three minutes. From there, the Citizens they seized the momentum and hounded Liverpool's goal for the duration of the first half.
G/O Media may get a commission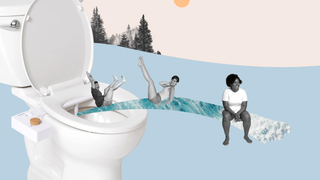 17% off
Tushy 3.0 Warm Water Spa Bidet Attachment
Their pressure was relentless, and Liverpool survived thanks to timely deflections, a few last-ditch blocks, and one very fortunate blown call that kept an onside Leroy Sane from getting the goal that he deservedly scored.
Even then, City just needed two goals to at least get the match to extra time, and all the signs from the first half pointed to them continuing their assault on a Liverpool defense that had to be exhausted from chasing Kevin de Bruyne and various Silvas around their own penalty box for 45 minutes straight. Guardiola's strenuous and vocal unhappiness with the questionable refereeing decisions saw him sent to the stands at halftime, but that didn't make his team any less volatile or liable to pop off. The start of the second half promised even more fun for neutrals and anxiety for Liverpool fans.
It didn't take too long after the break for Mohamed Salah to murder any reasonable hopes for a comeback. Liverpool's ascendent goal man scored the tie-killer in the 56th minute, and that was more or less that. That away goal meant City would need to score four second-half goals in order to win, and that number ballooned to five after Roberto Firmino put another one in 20 minutes later.
With the advancement of Roma today and the probable advancement of Bayern Munich and Real Madrid tomorrow, Liverpool will not be the favorites to win the whole shit, but they're the coolest team left and I hope they do. Bayern are stagnant and unremarkable and haven't been tested in the slightest in what is a complete and utterly garbage Bundesliga. Real Madrid are, of course, the devil. Roma are neat, and beating Barcelona 3-0 today to put Messi into the toilet is good and cool, but they aren't very good nor are they very much fun—especially not when compared to the Reds.
Liverpool are the one team still in this competition who come close to maximizing their potential, the only realistic winning side who could claim to be having a truly great season. Salah's individual season exploits are better than anyone else's in the world. Klopp has put together the exactly perfect tactics required to make Liverpool competitive with the biggest of the big boys in Europe. The squad, headlined by the blitzkrieging war machine that is Liverpool's forward line, has been precisely assembled and instructed to do exactly what they are doing today. If the idea of deservedness matters at all in this sport, then Liverpool can make the best claim for deserving to be crowned kings of Europe this year.
Would Liverpool's midfield struggle mightily with Real Madrid's world-best array of midfielders? Would their defenders find it hard to hold off Cristiano Ronaldo and Co. long enough to keep the tie close? Sure, but everyone would similarly struggle against Real's boringly supreme roster, and at least Liverpool can go the other way and score as many dumb goals as they please. I would love to see fake tough guy Sergio Ramos get all finger-jabby with Sadio Mané only for Mané to burn by him minutes later en route to setting up a Salah match-winner. Liverpool aren't the best team left in the Champions League—and they might even be far from the best—but they are the best Liverpool team they could possibly be. And that's more than enough reason to hope they finish this off and win the thing.